The holiday season is fast approaching, and seasoned retailers already know that for it to be a success, it takes careful planning, effective strategies, and a focus on providing exceptional customer experiences.
This article highlights seven ways to convert more furniture shoppers and the role 3D product visualization plays in transforming your shopping experience. So, if you find yourself not entirely prepared or could use some helpful tips, then keep reading.
But first, an overview of the 2022 holiday season
Last year saw consumers being generous and spending their hard-earned money during the holiday season. Although inflation may have forced retailers to offer more discounts, the strategy proved effective, as over $211.7 billion was spent, with Cyber Monday accounting for the most revenue.
Key trends included deep discounts online, continued technology adoption, and shoppers embracing flexible payments. The findings in Adobe Analytics's report show that online shopping is not slowing down but is, in fact, growing 3.5% year over year.
And what to expect this year

The 2023 holiday season will see a gain of 4.5% in retail sales, eMarketer forecasts, with a 5.1% growth for furniture and home furnishings. This shows us that price increases are still on every consumer's mind, but that doesn't mean it will stop them from celebrating and participating in holiday furniture shopping. It will simply influence how they shop.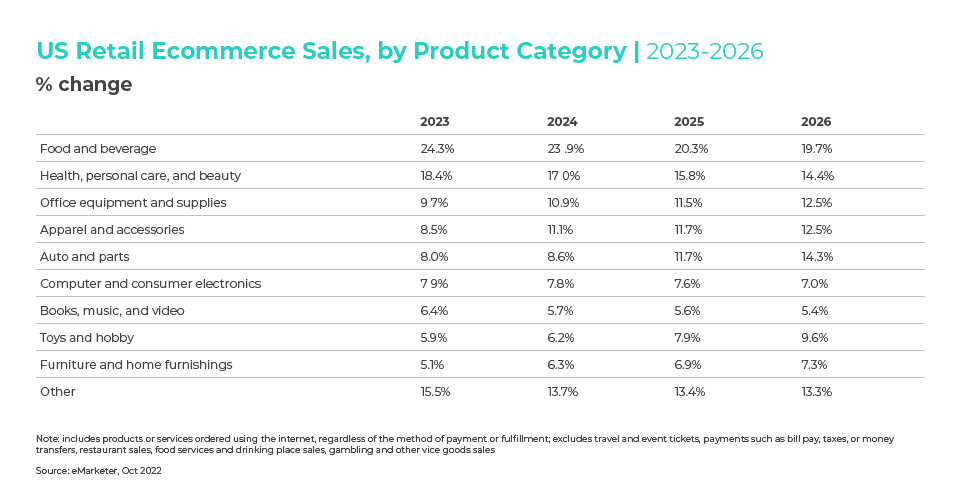 Discounts and promotional products are predicted to play a huge role, with two-thirds of CNBC's Supply Chain Survey respondents expecting consumers to look for deals during peak retail season and that more than half of orders will be promotional products, including gifts with purchases.
A Salesforce report does warn that poor returns experiences, policies, and processes will put 21% of online orders at risk. Per Salesforce data, at least 10% of orders were returned each week from November 2022 to mid-January 2023, as US shoppers returned more and earlier than in the previous holiday season.
Two ways retailers can ensure a good customer experience is to prioritize convenience and speed, which they can do with buy-online-pick-up-in-store (BOPIS) and an optimized checkout and fulfillment process. These processes give businesses a higher chance of boosting their competitiveness, increasing customer loyalty, and encouraging growth in the e-commerce landscape.
7 methods to get more holiday furniture sales this season
1. Create an engaging online shopping experience with 3D
Keeping customers engaged in the digital world is key to boosting online sales, setting yourself apart from the competition, and increasing customer satisfaction — and incorporating 3D technology can help you achieve just that.
Software such as 3D product visualization compensates for the lack of tactile experience online. It lets you create an immersive shopping experience digitally using high-quality 3D visuals. Customers can understand the product precisely and gain more confidence in their purchase.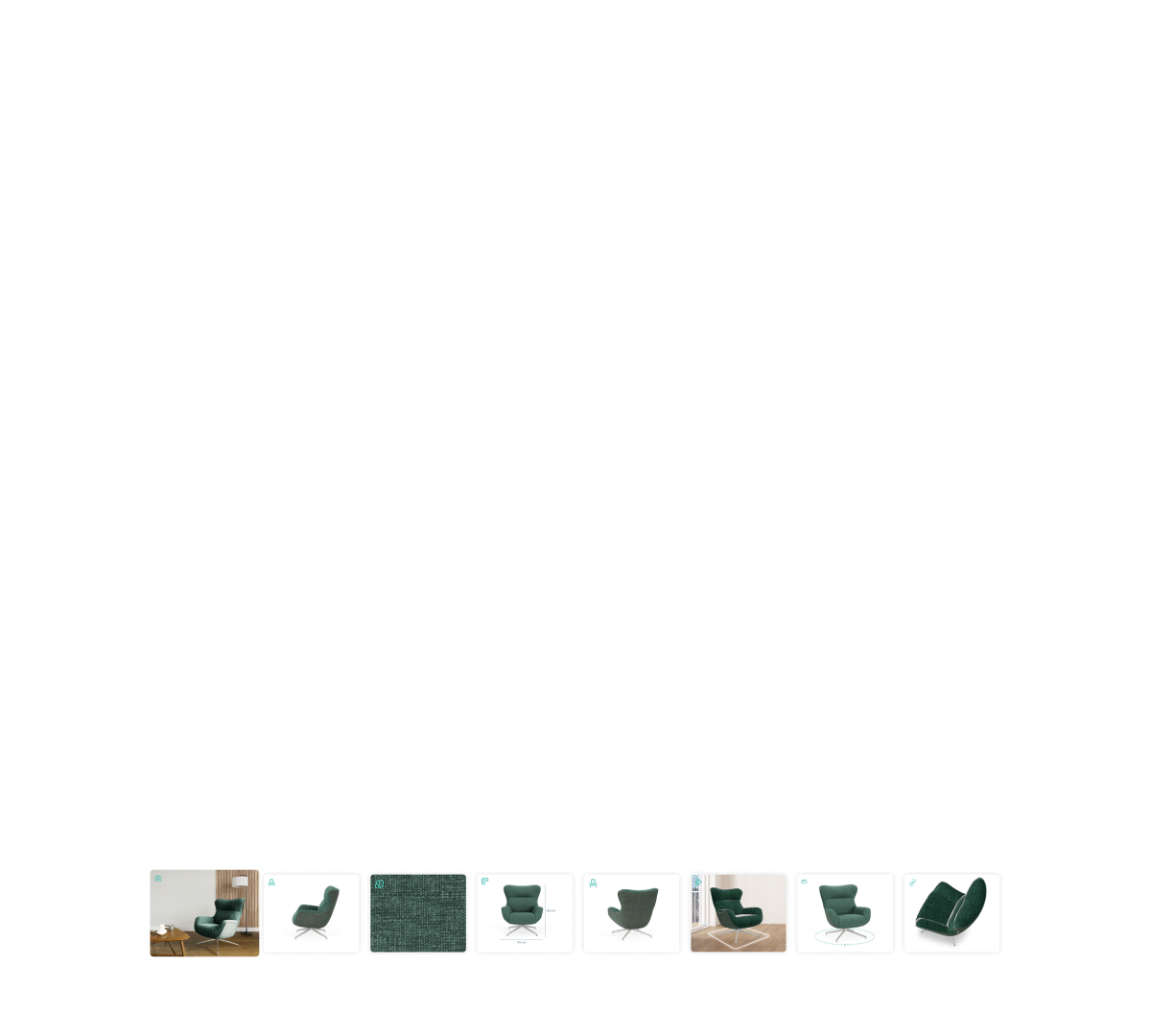 On top of visuals, other features such as 360-degree views and web-native augmented reality (AR) can bring the furniture closer to your customers and help you build a high-converting e-commerce experience.
2. Use AR to boost customer engagement
Augmented reality offers an interactive experience where you can place 3D objects in the real world through a handheld device like a phone or tablet. This means that customers no longer have to physically go in-store to do their holiday furniture shopping. They can see the products in real time, wherever they are.
According to Interior Define, customers that engage with AR are eight times more likely to convert. The data shows that most customers engage with AR towards the end of the buyer journey, helping propel them toward their purchase decision.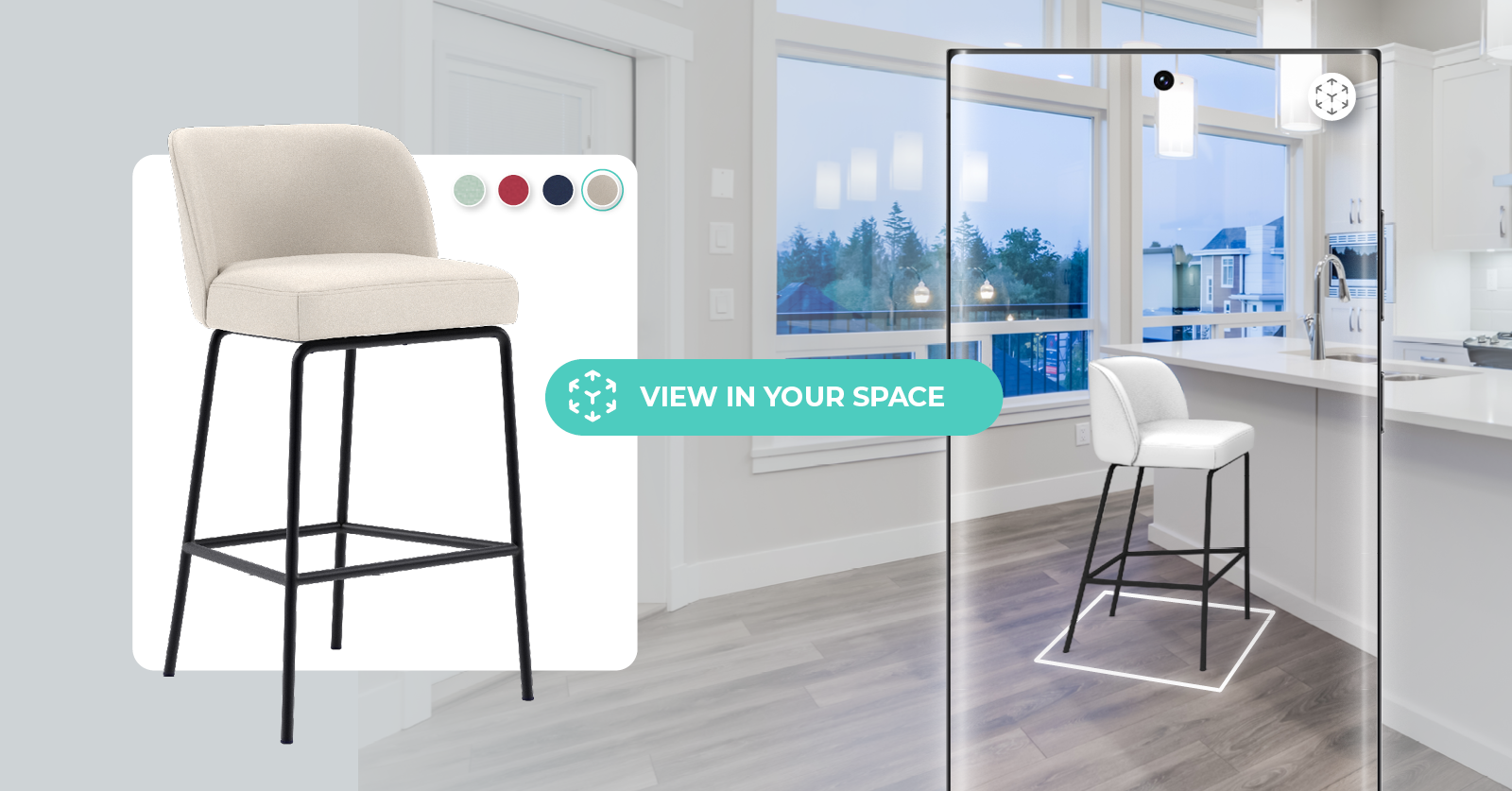 Adding AR to your e-commerce experience lets your customers visualize what a new piece of furniture would look like in their home with just a click. It gives them confidence in the configuration and scale of the product they are eyeing. It also helps them see if the furniture item's style, color, and fabric would suit their home's decor.
3. Deliver an endless aisle experience in-store
Implementing an endless aisle experience in-store lets you show more products, giving you a higher chance of selling more products. It offers the combined benefit of having an endless product assortment within the kiosks and tablets with the knowledge and experience of sales associates.
The endless aisle concept allows customers to browse and order products even if they are not in stock or available at the store. Customers still get the in-store shopping experience without the restrictions of inventory issues or the inconvenience of waiting for an available sales associate during the busy holiday season.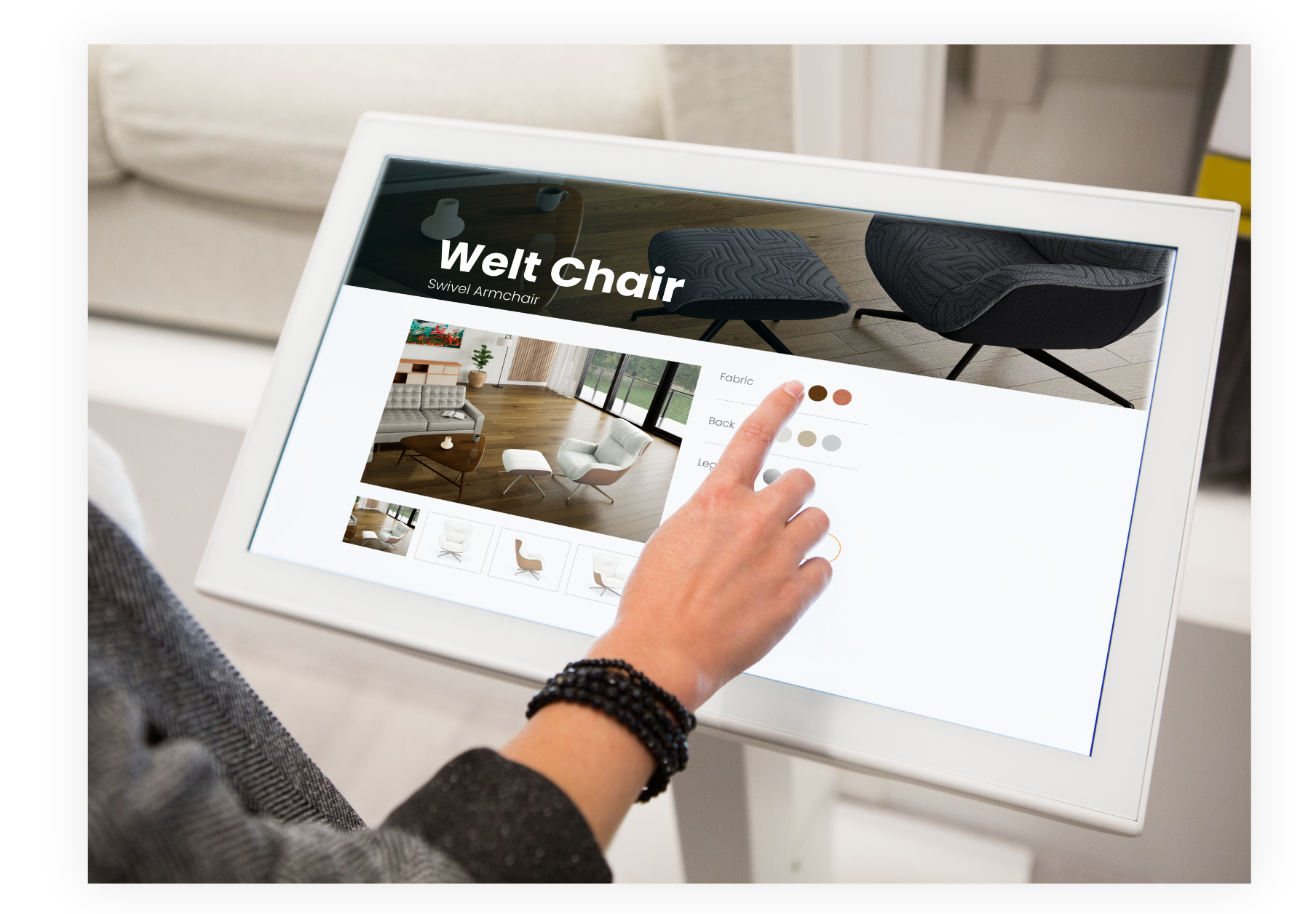 A report by Forrester Research shows that retailers who have adopted an endless aisle strategy noticed that the endless aisles account for up to 10% of their revenue. While an endless aisle is not a replacement for a sales associate, it is a significant enhancement and can transform your holiday furniture shopping experience.
4. Use the power of AI
Retailers can benefit from using AI in their online shopping experience. Take, for example, the use case of Industry West, an online retailer of modern furniture designs, and its negotiation AI chatbot.
Industry West's Chief Marketing Officer, Ian Leslie, shares how their small business uses automated negotiation technology and its benefits. Not only has it taken some volume off their customer service team, but it's also resulted in 3% of shoppers who engaged with the bot continuing to make a purchase.
On the product detail pages that are eligible for promotions, there is a 'Negotiate price - instant chatbot' button that, if shoppers click on, they can start negotiating with the bot. The results show that 28% of shoppers who start a negotiation reach an agreement with the bot, and of that 25%, 11% go on to make a purchase.
Leveraging the power of AI in your online shopping experience can impact your holiday furniture sales. As evident in the Industry West example, the right tool can take the pressure off some of your staff during the busy holiday season and still allow you to provide a great customer experience.
5. Collect first-party data
First-party data refers to high-value information about your audience directly obtained from interactions with your website or app. Loyalty programs and quizzes are great methods to do this.
Loyalty programs often require accounts to be created, which is a discreet way to build a repository of ideal customer profiles easily. Your program should offer good reasons for joining, such as free shipping, discounts, and reward points to encourage registration. McKinsey has found that top-performing loyalty programs can boost revenue from customers who redeem points by 15 to 25 % annually, by increasing either their purchase frequency or basket size or both.
Another way to collect first-party data is to use quizzes. Interactive quizzes let customers provide you with unbiased and valuable information about themselves. Your quiz has to suit your business, and it should be placed somewhere that doesn't interfere with the user experience of your website. A good example would be to design a product recommendation quiz where you ask questions that help people figure out what kind of dining table matches their lifestyle.
First-party data offers you a deeper insight to understand your customers better. As long as the methods of collecting it are done with transparency and in accordance with application data protection laws and regulations, it can be an excellent strategy to help convert more furniture shoppers this holiday season.
6. Use lifestyle imagery to inspire more purchases
Lifestyle imagery can transform your furniture business by showing it in context to help customers understand how it would look in a lifelike environment. You can create lifestyle imagery in two ways: traditional photography or 3D lifestyle imagery.
Traditional photography requires time and resources to stage and organize lifestyle shoots, not to mention you also have to consider environmental conditions and unpredictable costs. Compared to this, 3D lifestyle imagery gives you more flexibility at a fraction of the cost.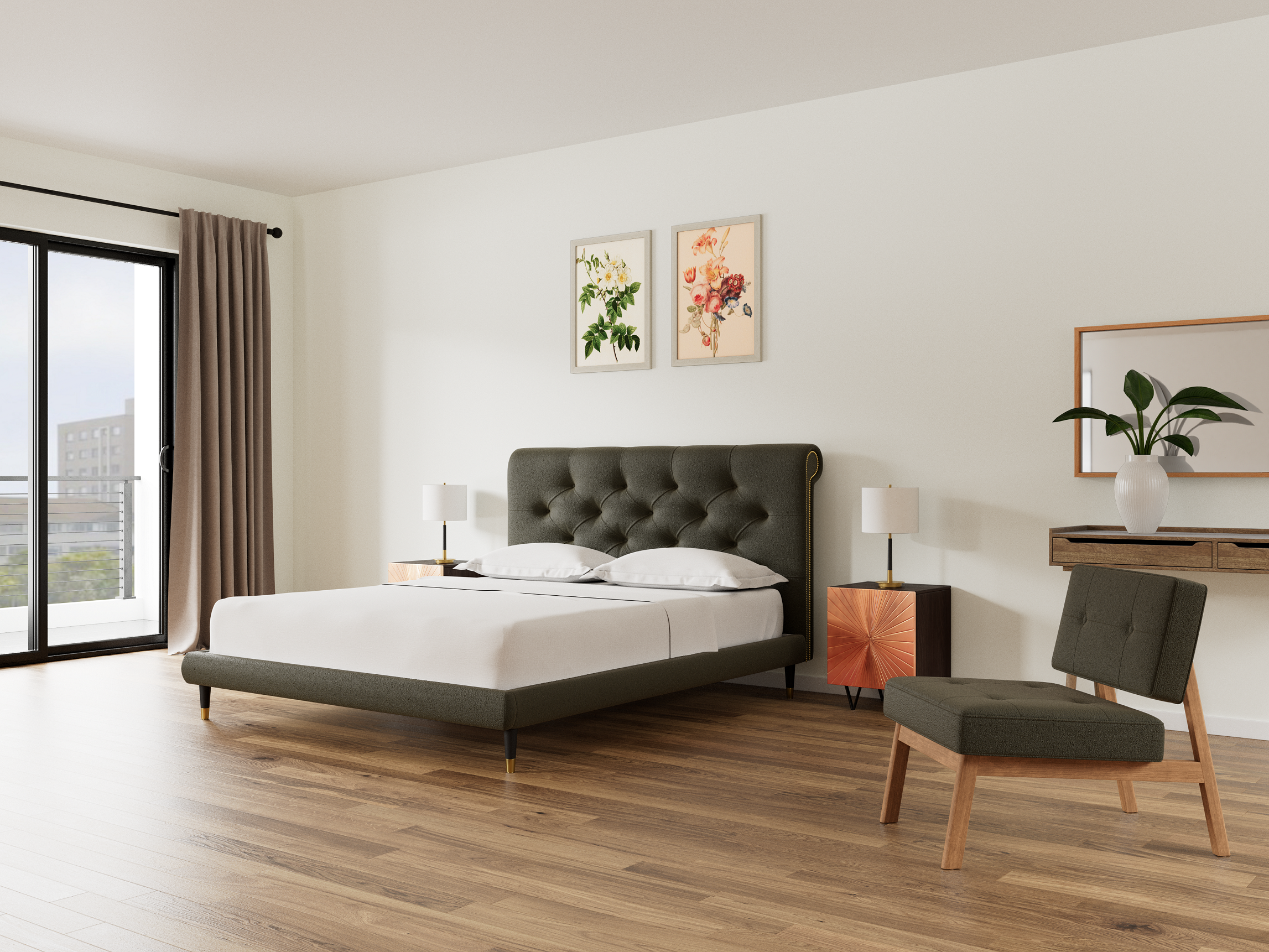 The rise of 3D product visualization means furniture businesses can scale the creation of lifestyle imagery and use those visuals across various touchpoints. You can effortlessly produce customizable and photorealistic lifestyle imagery whenever needed.
Easy generation, iterative refinement, seamless management, and widespread distribution of visuals at a large scale are just some noteworthy advantages of leveraging product visualization to create 3D lifestyle imagery to inspire more purchases.
7. Enhance the mobile experience
Mobile usage is ubiquitous. Consumers use mobile devices such as smartphones and tablets to browse the internet, look for products, and make purchases. Last holiday season, 45% of revenue came from mobile devices, according to Adobe.
A crucial aspect of online shopping, the mobile experience offers flexibility, convenience, and accessibility, and it aligns with the preferences and behaviors of modern consumers. Retailers need to prioritize mobile optimization to remain competitive in the ever-evolving e-commerce landscape.
Strategies such as having a mobile-responsive website, mobile-friendly checkout, and a seamless cross-device experience can enhance the mobile experience for consumers, ultimately driving engagement, customer loyalty, and more holiday furniture sales conversions.
Transform your shopping experience with 3D product visualization
Engaging your customers, inspiring more purchases, and creating an exceptional online experience are key elements to converting more furniture shoppers — all of which are doable with an immersive 3D experience.
Prepare yourself and your business for the upcoming holiday season by scheduling a demo with a product visualization expert and see why hundreds of furniture retailers and brands are turning to 3D product visualization to deliver immersive experiences at scale.