Many furniture companies found themselves in a lurch over the last few years. Those who weren't prepared for the sudden surge of online sales and the loss of brick-and-mortar sales due to the lockdown struggled to keep their heads above water.
Fast forward to today, one thing is for sure — e-commerce is here to stay. While stores will remain an important pillar for every furniture business, having an engaging online customer experience will be crucial.
Adobe's Digital Economy Index found that consumers spent $1.7 trillion online during the past two years of the COVID-19 pandemic. It is expected that customers will break a record in 2022 by spending more than $1 trillion online.
According to McKinsey, there's a 30% expected growth in customers purchasing furnishings and appliances online even after the pandemic.
Companies are faced with a whole new set of challenges and expectations. To help you navigate the new landscape, we've prepared a list of 10 tactics for pivoting your furniture business toward future growth.
1. Create an engaging online shopping experience to future-proof your business
We're witnessing a seismic shift in e-commerce. Traditional buyers who, in the past, had some hesitation in making purchases digitally have become first-time online buyers during the pandemic.
According to Paysafe's research report Lost in Transaction: The impact of COVID-19 on consumer payment preferences, 18% of all consumers globally made an online purchase for the first time since the outbreak of the pandemic. (This increases to 25% in the U.S. and 21% in the U.K.)
A good starting point to create an engaging shopping experience is to understand your product pages' performance and make improvements if needed. Here are some of the main indicators to check that can give you a clear picture of your user experience.
Analyze traffic: Make sure to find out where your traffic is coming from, what channels are performing best, and how much engagement and traffic you are getting from your ideal audience.
Time on site: This is one of the most relevant indicators of product page performance. If people don't engage with the site and leave quickly after they arrive, that is a clear sign that something is wrong with it.
Check the design and functionality across devices: With mobile commerce on the rise, making sure your product pages look good and function properly across multiple devices is the key to success.
Measure conversion rate: The ultimate goal of an e-commerce product page is to convert visitors into buyers. Analyze the conversion rate on a granular level to gain more insight into your visitors' behavior to later make data-driven decisions.
Analyze the buying process: Is the buying process straightforward? Or are your visitors struggling to navigate through your product pages? If they have a hard time getting the information they need, they may leave and go to a competitor's website.
Rich content product pages: Customers look for engaging experiences online. If your product page is boring and non-functional, you will see your bounce rates increase.
Page load speed: It's important to keep in mind that the balance between rich content and speed is crucial. If your product page takes too much time to load, customers will leave the page before it even opens.
2. Design product pages that turn visitors into customers
After diagnosing the performance of your product pages, you'll be able to define a plan for improving the overall online shopping experience.
Even though the process of creating an engaging online shopping experience can seem daunting, start from the basics and go from there.
High-quality visuals
Furniture is an incredibly visual industry, so having top-notch product visuals is a prerequisite for more online sales. According to Pinterest, over 85% of respondents put more importance on visual information than text information when shopping online for furniture.
Product customization
Customization has become an essential part of the overall online buyer journey. Imagine you are buying a sofa, and the moment you open a retailer's product page, you see a sofa in one color and then hundreds of colors and fabrics listed on the side without being able to see how the sofa looks in the color you like. Not the best user experience, right? A product configurator enables customers to display the right product from a large number of possible product variants intuitively, easily, and quickly and to order directly according to their requirements.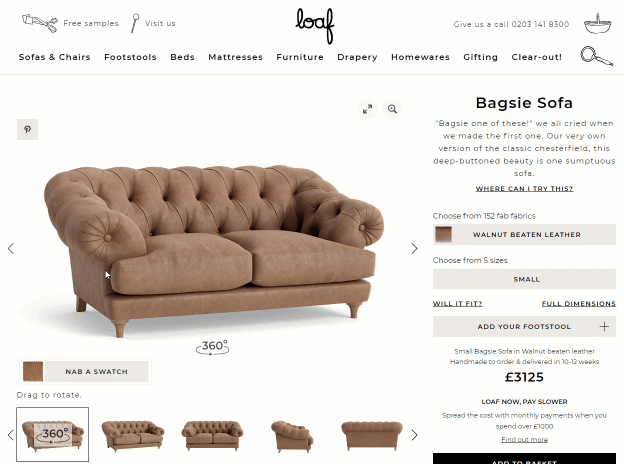 Product information details
Answering as many questions as possible on your product page will pave the way for more "add-to-cart" clicks. Research shows that 46% of U.S. shoppers will not buy a product if they don't find detailed product information online. That's why it's essential to include all the information customers need to make a decision about buying a big-ticket item like furniture.
Filtering options
People love having the power of choice, especially when shopping. However, having too many choices often leads to inaction — otherwise known as choice paralysis. When done right, e-commerce product filtering helps visitors narrow down a selection and find products they might be interested in based on certain features (e.g., size, color, category).
Product recommendations
Product recommendations allow customers to find relevant products quickly and easily by generating personalized offers based on their browsing and purchasing behavior. You can also show items purchased by "like-minded" visitors. For 67% of customers, getting relevant product recommendations is very important, according to McKinsey.

Reviews
Customers today are constantly looking for unbiased feedback to help them decide whether they should buy a product. Product ratings and reviews have become major decision-making factors. When it comes to big-ticket purchases like furniture, product reviews are even more important. According to eMarketer, when researching an expensive item online, ratings and reviews were the most common sources respondents consulted, more so than word of mouth, in-store sales associates, or social networks.
Checkout experience
Give customers the chance to choose between registering and guest checkout. Also, find a smart way to encourage them to give you their personal information. Offer an incentive or a personalized experience. One other thing which is very important for a pleasant checkout experience is to show an image of the product that your visitor is buying in the shopping cart. This way, you will avoid confusion and reduce the number of returned items due to the wrong color, size, or even the wrong product.
3. Bridge the online-offline gap with 3D product visualization
For many products, particularly furniture, shoppers want to scrutinize the product before making a purchasing decision. Replicating the sensation of the rich texture, soft cushions, and the overall in-store experience in furniture e-commerce is difficult — but not impossible.
Here's where product visualization comes in handy. By implementing 360-degree views, 4K zoom, and web-native augmented reality (AR), furniture businesses enable their customers to spin the products and examine them from different angles before purchasing.
360-degree views
When it comes to the online furniture purchasing journey, an outstanding visual experience is the best way to compensate for a lack of tactile sense. Consumers love interactive shopping experiences.
The luxury furniture brand Monte Design saw a 50% increase in average time on page after implementing customization with 360-degree views on its product pages.
Grano Glider Recliner
SELECT FABRIC:
SELECT PILLOW:
SELECT BASE:

"Technology is the backbone of a strong digital user experience. Investing in high-quality visuals of every product we offer is key. This is achieved in ways such as high resolution 'zoom-in' features, 360-degree spin on all items, and quick-loading AR availability."

- Ralph Montemurro, Founder, Monte Design
Augmented reality
Customer experience has changed quite a bit over the last few years, and so too has the technology required to facilitate it. According to Google, two-thirds of people say they are interested in using AR to help them when shopping. This underscores just how serious augmented reality is becoming.
Customers are excited to use this form of mobile engagement to get immersive shopping experiences. Data from Interior Define shows that customers that engage with AR are eight times more likely to convert than customers that choose not to engage with AR.
Virtual consultation with 3D product visualization
For tech-savvy, forward-thinking retailers, e-commerce is a vital part of the business. Being aware of the importance of bridging the online-offline gap, companies adopt features to simplify online furniture shopping for customers. One of those features is virtual consultation.
Even though some furniture retailers had this service before the outbreak, many of them realized how important online consultations are when all of their brick-and-mortar stores were closed due to the pandemic. Now, retailers are ramping up their virtual consultations as they bank on e-commerce for the long haul.
By using online consultations, retailers can show products to their customers through live videos and demonstrate certain product features that can't be seen through a simple image. Besides this, furniture companies have started implementing a 3D product visualization that has improved the overall customer experience.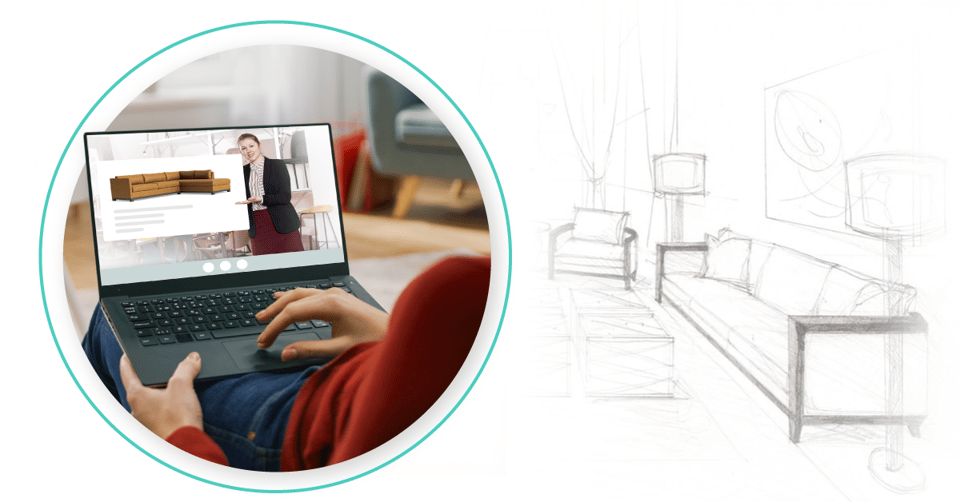 4. Redefine your in-store experience
Even though online sales will continue to rise, brick-and-mortar stores will still remain one of the core pillars of furniture retail. The heavy investments in brick and mortar by some of the most well-known names in the furniture industry are a testament to that.
Opening a store helps furniture businesses capture a slice of the market and build brand awareness. But the benefits don't stop there. Brick-and-mortar locations have a positive effect on e-commerce sales as well. According to Interior Define, its online conversion rate triples when the customer is in a market with a retail location.
Moving forward, the traditional brick-and-mortar experience will be replaced by experiential retail. Thanks to technology, furniture businesses can introduce an engaging in-person shopping experience with an endless aisle, helping customers make the best purchasing decisions.
5. Take care of your mobile experience
Mobile is an integral part of how consumers shop nowadays, from browsing and research to comparison and purchase. Even though buying a big-ticket item such as a sofa takes more time and consideration, in most cases, the mobile experience is the first touchpoint for customers.
According to Google, 60% of home and garden shoppers use mobile searches for ideas about what to buy before they head into a store. This is why having an exceptional mobile experience is a must for every furniture retailer, whether traditional or digital-first.
Prioritizing mobile will pay dividends in the long run. Research from Google shows that for 59% of shoppers, being able to shop on mobile is important when deciding which brand or retailer to buy from. This is one more reason to pay extra attention when optimizing for mobile to ensure that visitors who open your site from their mobile device have a great experience.
6. Build a diversified supply chain
The pandemic has brought enormous challenges to the global supply chain. As a result, about 75% of U.S. companies reported disruptions in their supply chains.
Furniture brands have learned the hard way that they need to diversify their supply chains. Retailers, on the other hand, realized that they need a wide portfolio of products from different brands.
The explosive growth of e-commerce since the start of the pandemic has brought another challenge for businesses — high customer expectations for a seamless end-to-end shopping experience. According to Baymard, slow delivery is one of the top three reasons for cart abandonment.
The explosive rise of costs for shipping containers forced brands to double down on North American manufacturing to bypass the global supply chain crisis. There has been a significant increase in the number of companies looking to build or expand manufacturing operations in Mexico — Kuka Home, Innova Luxury Group, and New Classic Furniture, to name a few.
Moving forward, one of the main goals of furniture businesses should be to increase supply chain resilience in the face of the unexpected.
7. Offer flexible fulfillment options
Last-mile delivery is the most important element of the supply chain business. Logistics and timely delivery will become a significant competitive advantage for furniture businesses.
According to Bringg, 98% of retailers reported having pain points when it came to delivering on time. To overcome this challenge, retailers are ramping up their investments in automation solutions to improve last-mile carrier management, dispatching and routing, real-time visibility, planning warehouse and fulfillment center logistics, driver communication, and smooth omnichannel expansion, including offering buy online, pick up in-store (BOPIS) and curbside pickup options.
When it comes to alternative fulfillment channels, in-store pickup leads as the most popular fulfillment option. Six in 10 retailers offer this service to customers. While these fulfillment models brought great benefits for retailers, operational efficiency will become a greater focus, especially for retailers looking to scale their online sales.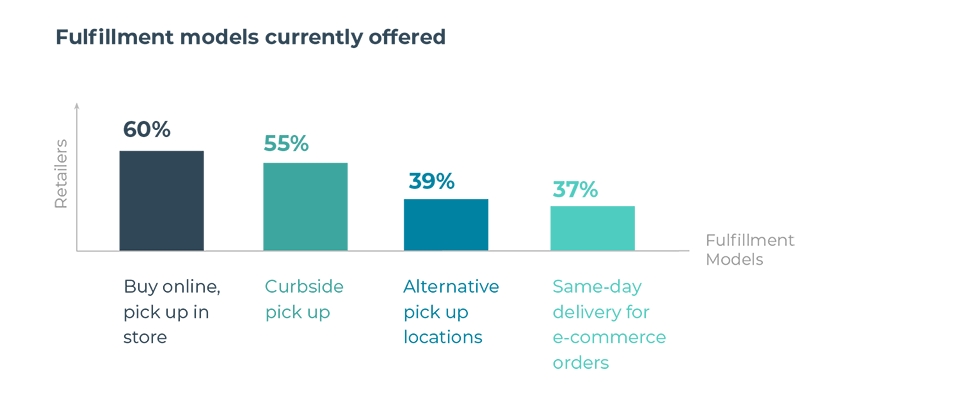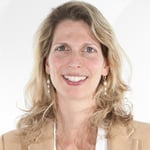 "Today's shoppers weigh their satisfaction with the retailer as much on the delivery experience as they do on the product — they want more products and services, more flexible fulfillment options, and faster delivery than ever. It's not just about speed; it's about the fulfillment options you provide and your ability to offer the convenience which shoppers demand.
Seamless, omnichannel fulfillment that gives customers choices of how and when to fulfill their orders has become an imperative for retailers in general and big and bulky brands in particular."

- Daniela Perlmutter, SVP Marketing at Bringg
8. Prevent and manage returns in the right way
Unlike other industries where bracketing (buying multiple sizes of the same item) is a normal way of online shopping, product returns are a real headache for furniture retailers. They not only have to come up with a logistical solution for the return of the products, but they also lose money as a result of the process.
According to Statista, 7% of customers have sent back furniture and household goods after an online order. While there are many reasons why customers return online purchases, according to SaleCycle, 64% of customers stated that the main reason for online product return is due to the fact that the purchased product didn't match the description.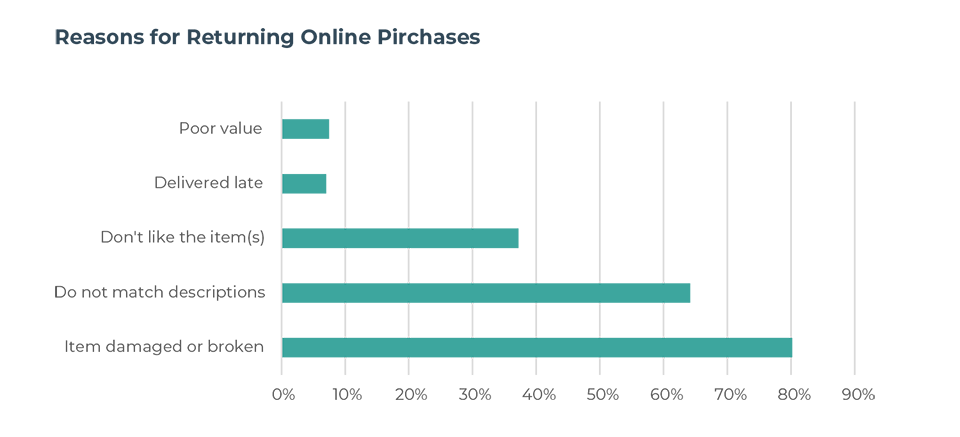 Here's the good news: you can prevent product returns with 3D product visualization. With high-quality product visualization, customers will know exactly what to expect. Thanks to advanced visualization technology, computer-generated imagery (CGI) often shows colors more correctly than photography. Moreover, 3D renderings can do things that photography just can't do — 360-degree spin, product cutouts, or interactive room scenes. Having your product pages equipped with high-quality 3D visualization will help decrease the number of returns.
Aside from preventing product returns, here are some other tips to help you better manage the process:
Have a clear return policy
Consumers pay a lot of attention to the return policy before making a purchase. This is especially true for online shopping for big-ticket items. Make sure to create a dedicated page on your website where you state all the details of your return policy. Transparency is key.
Offer flexibility
To encourage consumer buying behavior, craft a return policy that makes sense for your business and your customers. But more importantly, it's vital to introduce a customer-centric policy that has long-term engagement in mind. From free returns and easy refunds to a 60-days return policy and exchange for other products, furniture retailers can tailor a return policy that suits both sides.
Create sustainable return practices with recommerce
In some cases, returned goods end up in landfills. Americans generate over 12 million tons of furniture waste (sofas, mattresses, chairs, tables, etc.) every year. Over 80% of it ends up in landfills. The rise of recommerce provides a dual solution — it will help retailers manage bulky returns while keeping furniture items out of landfills.
Research from FloorFound reveals that 92% of consumers have purchased a resale item online in the past, including furniture, and 95% of consumers would be open to buying resale items from brands directly at a discount. In other words, recommerce is changing the furniture industry — in a good way.
9. Present flexible and contactless payments
Offering consumers more convenience, safety, and flexibility in their shopping experience could increase the likelihood of making a purchase. This goes for payment methods as well.
The COVID-19 pandemic has accelerated the adoption of "contactless" technologies. Mobile transactions are replacing cash, checks, and credit cards as people avoid exchanging paper currency or touching screens to complete transactions. First, it was for safety reasons. Now, it's slowly becoming more of a behavioral shift because of its convenience.
Besides this, online retailers have introduced buy now, pay later (BNPL) flexible payment options. This allows customers to make a purchase by paying a small amount of the total purchase price, receiving the product, then making additional payments to complete the purchase amount over time. Buy now, pay later is making its way into the home industry, as more retailers offer this possibility for their customers.
Adopting BNPL offers many advantages for furniture retailers, including higher conversion rates, average order value, and access to new customer segments. Research from the financial analysis website The Ascent shows that furniture is one of the top three categories where customers make purchases using the buy now, pay later method — 39% of users say they've used BNPL to buy furniture.

10. Use the power of social media
The rise of social media has completely changed the world of marketing. According to Stackla, 72% of consumers say the amount of time they spend on social media has increased since the pandemic started.
Social media is the best place to find customers. They spend a lot of time scrolling through the never-ending feed, searching for inspiration. Improved traffic, lead generation, and growing fan loyalty are among the top three reasons why marketers see value in social media, according to Statista.
If you want to be noticed, make sure to use visuals that tell a story. You can step up your social media game by using high-quality visuals, detail shots, lifestyle shots, 360-degree view GIFs, and other engaging types of content.
Data from Stackla shows that 56% of consumers say they're more influenced by images and videos from social media when online shopping now than they were before the pandemic.
Prepare for the new furniture business landscape
It's an exciting time to be operating in the furniture space. It takes dedication to learn and prepare for the future. The actions you prioritize today can help you set the foundation for growth and future-proof your business.
Curious to find out the main strategies and initiatives that furniture businesses should focus on in the upcoming years? Download our e-book to find out the biggest challenges and opportunities according to industry-leading experts.