Many furniture companies found themselves in a lurch over the last few months. Those that weren't prepared for the sudden surge of online sales with the loss of brick-and-mortar sales due to the lockdown, were struggling to keep their heads above the water.
While rigid companies are praying for things to get back to normal, tech-savvy companies are aware that there's no going back. E-commerce is here to stay. So no matter how soon things go back to normal, and stores are fully operational, customers will look for convenient and efficient ways to get what they need.
According to new data from IBM's U.S. Retail Index, e-commerce is projected to grow by nearly 20% in 2020. This number goes up to 30% for furnishings and appliances.
Having in mind that retailers are faced with a whole new set of challenges and expectations, we've prepared a list of 10 tactics that will help you pivot your furniture business towards future growth.
1. An engaging online shopping experience will future-proof your business
We're witnessing a seismic shift in e-commerce. Traditional buyers who, in the past, had some hesitation to make purchases digitally have become first-time online buyers during the pandemic.
According to Paysafe's research report Lost in Transaction: The impact of COVID-19 on consumer payment preferences, 18% of all consumers have made an online purchase for the first time since the outbreak of the pandemic (this increases to 25% in the U.S. and 21% in the U.K.)
A good starting point to understand your product pages' performance and make improvements if needed, is to check some main indicators that can give you a clear picture of your user experience.
Analyze traffic: Make sure to find out where your traffic is coming from, what channels are performing best, and how much engagement and traffic you are getting from your ideal audience.
Time on site: This is one of the most relevant indicators of product page performance. If people don't engage with the site and leave quickly after they arrive, that is a clear sign that something is wrong with it.
Check the design and functionality across devices: With mobile commerce on the rise, making sure your product page looks good and functions properly across multiple devices is the key to success.
Measure conversion rate: The ultimate goal of an e-commerce product page is to convert visitors into buyers. Analyze the conversion rate on a granular level to gain more insight into your visitors' behavior to later make data-driven decisions.
Analyze the buying process: Is the buying process straightforward? Or are your visitors struggling to navigate through your product page? If they have a hard time getting the information they need, they may leave and go to a competitor's website.
Rich content product page: Customers look for engaging experiences online. If your product page is boring and non-functional, you will see your bounce rates increase.
Page load speed:

It's important to have in mind that the balance between rich content and speed is crucial. If your product page takes too much time to load, customers will leave the page before it even opens.
2. Designing a product page that turns visitors into customers
After diagnosing the performance of your product pages, you'll be able to define a plan for improving the overall online shopping experience.
Even though the process of creating an engaging online shopping experience can seem daunting, start from the basics and go from there.
High-quality visuals - Results from

our research

show that 60% of the Top 100 U.S. furniture retailers have high-quality visuals on their product pages. Furniture is an incredibly visual industry, so having top-notch product visuals is a prerequisite for more online sales.
Product customization - Customization has become a very important part of the overall online buyer journey. Imagine you are buying a sofa, and the moment you open a retailer's product page, you see a sofa in one color, and then hundreds of colors and fabrics listed on the side without being able to see how the sofa looks in the color you like. Not the best user experience, right? A product configurator enables customers to display the right product from the large number of possible product variants intuitively, easily, and quickly and to order directly according to their individual requirements.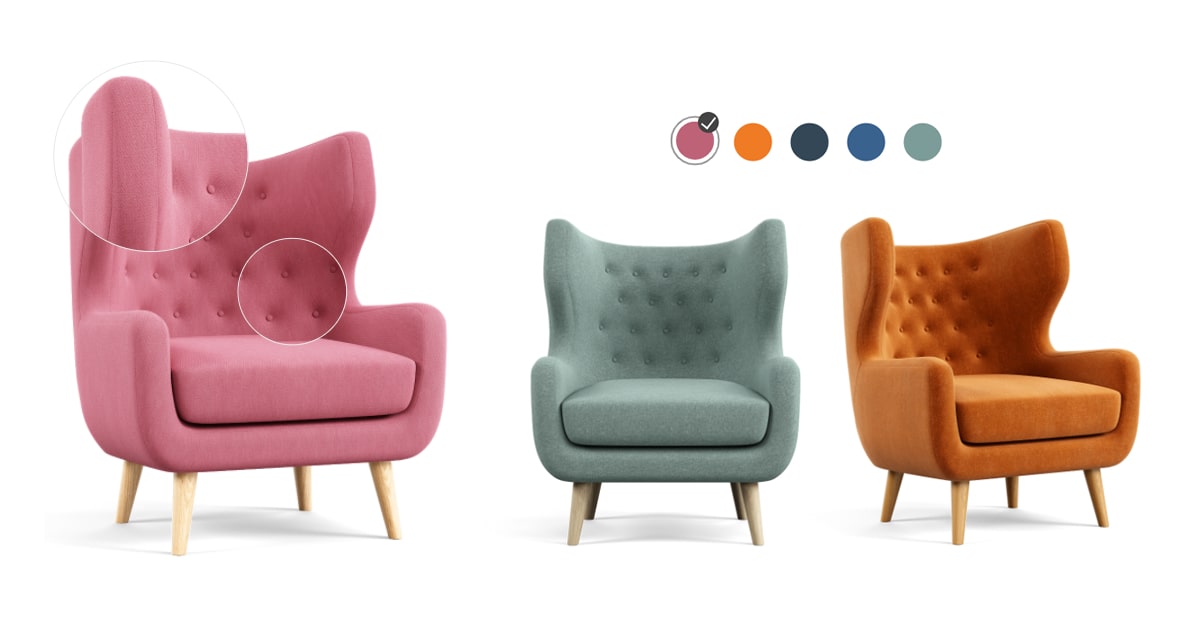 Product information details - Answering as many questions as possible on your product page will pave the way for more "add-to-cart" clicks. That's why it's essential to include all the information customers need to make a decision about buying a big-ticket item like furniture.
Filtering options - People love having the power of choice, especially when shopping. However, having too many choices often leads to overwhelm and inaction — otherwise known as choice paralysis. When done right, e-commerce product filtering helps visitors narrow down a selection and find products they might be interested in based on certain features (e.g., size, color, category).
Product recommendations - Product recommendations allow customers to find relevant products quickly and easily by generating personalized offers based on their browsing and purchasing behavior. You can also show items purchased by "like-minded" visitors.
Reviews - Customers today are constantly looking for unbiased feedback to help them decide whether they should buy a product. Product ratings and reviews have become major decision-making factors. When it comes to big-ticket purchases like furniture, product reviews are even more important.
Checkout experience

- Give customers the chance to choose between registering and a guest checkout. Also, find a smart way to encourage them to give you their personal information. Offer an incentive or a personalized experience. One other thing which is very important for a pleasant checkout experience is to show an image of the product that your visitor is buying in the shopping cart. This way, you will avoid confusion and reduce the number of returned items due to the wrong color, size, or even the wrong product.
3. Bridging the online-offline gap with product visualization
For many products, particularly furniture, shoppers want to scrutinize the product before making a purchasing decision. Replicating the sensation of the rich texture, soft cushions, and the overall in-store experience in furniture e-commerce is difficult — but not impossible.
Here's where product visualization comes in handy.
360-degree views - When it comes to the online furniture purchase journey, an outstanding visual experience is the best way to compensate for a lack of tactile sense. Shoppers want a

360-degree view

of anything they're going to buy, and images undoubtedly tell more of a story than product descriptions ever could. Google's metrics have shown that consumers interact with 360-degree spin four times longer than with conventional product photos alone.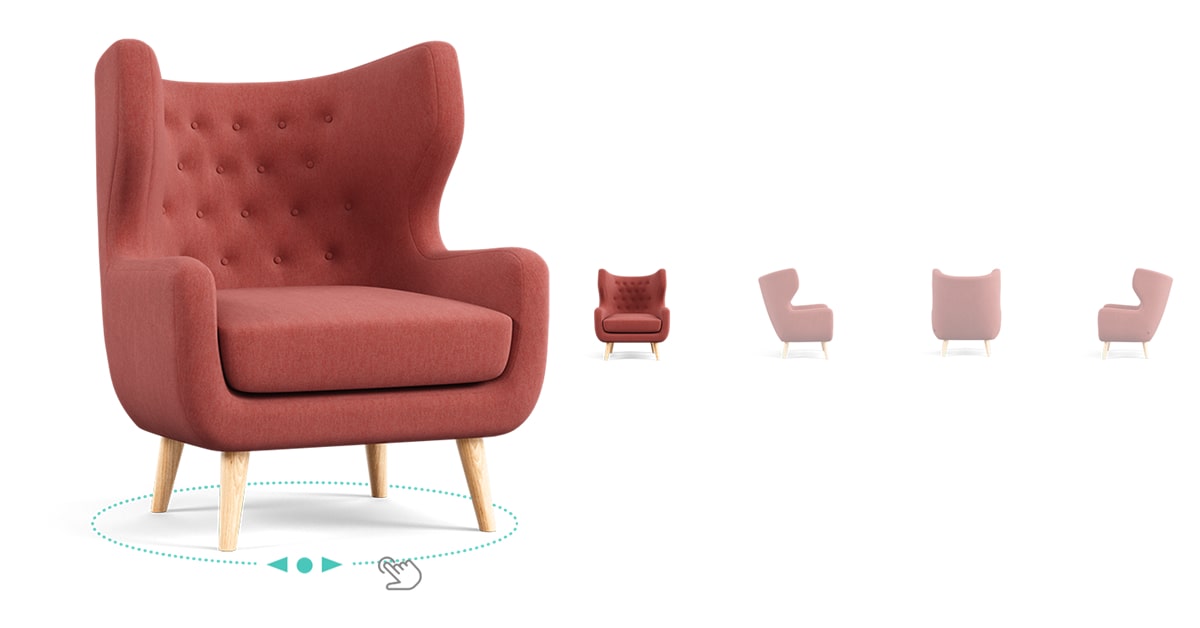 Augmented reality - According to Interactions Research, 60% of U.S. Internet users want to use AR to buy furniture. This is no surprise. Having in mind that furniture is a big-ticket item, it's clear that using an AR app can reduce customer hesitations in purchasing due to uncertainty. Besides this, data from Interior Define shows that

customers that engage with AR are eight times more likely to convert

than customers that choose not to engage with AR.
Virtual consultation with 3D product visualization - The retail apocalypse that happened due to the coronavirus outbreak has forced furniture companies to find new ways to engage with customers and recreate the in-store experience. As stores closed, new opportunities opened. Furniture retailers started offering virtual consultations to their customers. Results from

our research

from July 2020 show that 36% of the Top 100 U.S. furniture retailers offer virtual consultations to help customers make a decision for an online purchase.
4. Redefined in-store experience and a sneak peek at the store of the future
The first half of 2020 was hard for everyone, especially for furniture retailers that prioritized brick-and-mortar stores and face-to-face engagement over omnichannel strategies. Direct-to-consumer businesses and omnichannel retailers have pivoted more easily. Traditional retailers, on the other hand, have struggled to respond.
The truth is that no matter how many customers turn to online shopping, stores will still exist - in a different format. So it looks like the outbreak has accelerated the digital transformation in furniture retail and prompted retailers to reimagine the in-store experience.
The store of the future will be smaller, so the biggest challenge for retailers in the not-so-distant future will be in transforming to an experiential store through technology. The concept of offering customers an appointment to get full attention and leverage technology to help them make a purchasing decision is something we might see in the near future.
5. Mobile experience is more important than ever
Mobile is an inevitable part of the way consumers shop nowadays, from browsing and research to comparison and purchase.
While there was a common misconception that people use smartphones because they're always on the go, the recent outbreak confirmed that smartphone usage is a behavioral shift. The numbers show that despite the fact that people generally spent more time at home during the lockdown, they were still using their mobile devices for browsing. Data from Google Shopping Insights shows that 72% of searches in the furniture category from January to August 2020 came from mobile devices.
Prioritizing mobile will pay dividends in the long run. Back in 2016, Google confirmed that more than 50% of all web traffic was coming from smartphones and tablets, so it's no surprise that they have shifted indexing from desktop to mobile-first. This is one more reason to pay extra attention when optimizing for mobile to ensure that visitors who open your site from their mobile device have a great experience.
6. The journey to a diversified supply chain
If there is one thing we've learned during the pandemic, it's not to put all eggs in one basket. This is true on a personal and a business level. It applies to revenue streams, savings, but also supply chains.
Furniture brands have learned the hard way that they need to diversify their supply chains. Retailers, on the other hand, realized that they need a wide portfolio of products from different brands.
The online furniture company, Wayfair, sources about 50% of its goods from China. That's why they were facing some difficulties during the first quarter when China was most affected by the pandemic. However, the surge in online furniture sales and the ability to adapt helped them deliver a profitable Q2, which is the first profitable quarter since going public in 2014.
According to McKinsey, by 2020, 80% of the goods will be manufactured in a country different from where they are consumed. Supply chains are becoming more global, and companies pursuing growth will need to think about dealing with the supply chain complexity.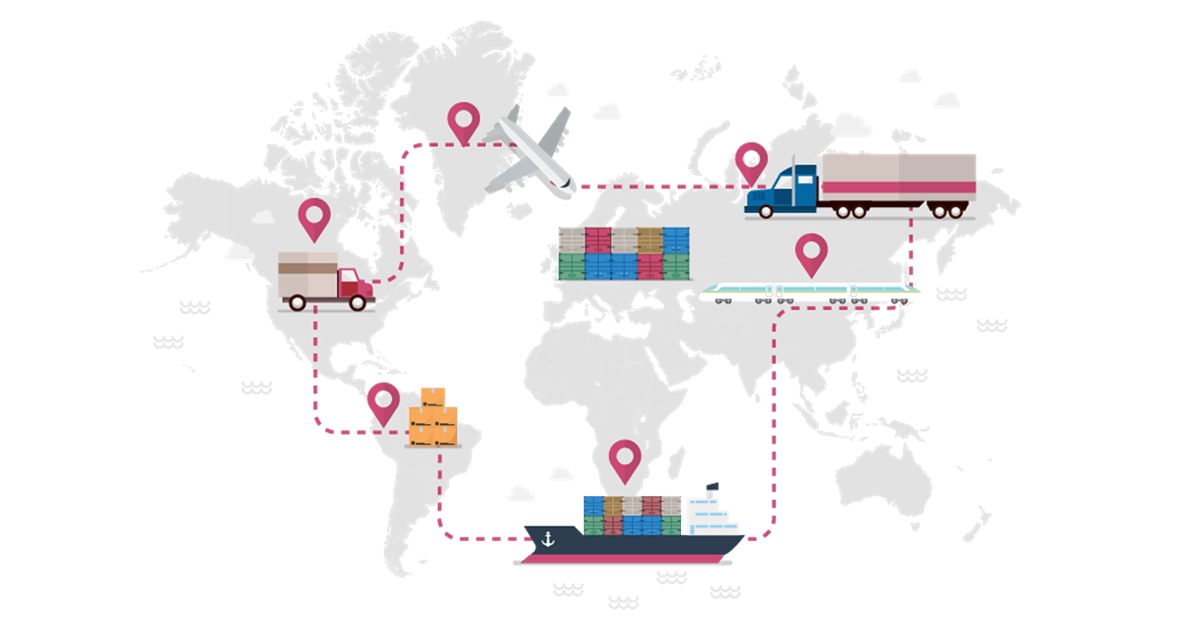 7. Flexible fulfillment options will lead to customer satisfaction
Last-mile delivery is the most important element of the supply chain business. Managing last-mile fulfillment in an unprecedented time for shipping and delivery can be challenging for furniture retailers.
Before the outbreak, BOPIS (buy online, pickup in-store) was a way to provide instant gratification to shoppers. Now, however, these flexible fulfillment options like BOPIS and curbside pickup are essential for every furniture retailer. By 2021, 90% of retailers are expected to offer BOPIS, according to Digital Commerce 360.
In September 2020, Google updated its Shopping results on Google Search to help consumers find local businesses and check for curbside and in-store pickup services. It's now easier for customers to see what's in stores near them before committing to going in-person, with a map view and list of stores in their area.
Besides this, consider working with a third-party logistics (3PL) partner as it comes in very handy when your order volume can spike, and it becomes very challenging to fulfill orders in a timely manner.
Shipping fulfillment companies help retailers scale, so they can focus on growing their businesses by focusing on other important aspects instead of logistics. When you work with a fulfillment company or 3PL, you should find a partner that you'll have for years to come, meaning you can expand into additional fulfillment centers to further reduce shipping costs and transit times as your order volume increases and use more functionality as it becomes needed.
8. Managing returns in the right way can be a game changer
Data from SaleCycle shows that, on average, 25% of all e-commerce purchases are sent back. Almost a third of customers (30%) deliberately over-purchase and subsequently return unwanted items. And if a retailer charges too much (or charges at all), 57% of millennials will bail on future business.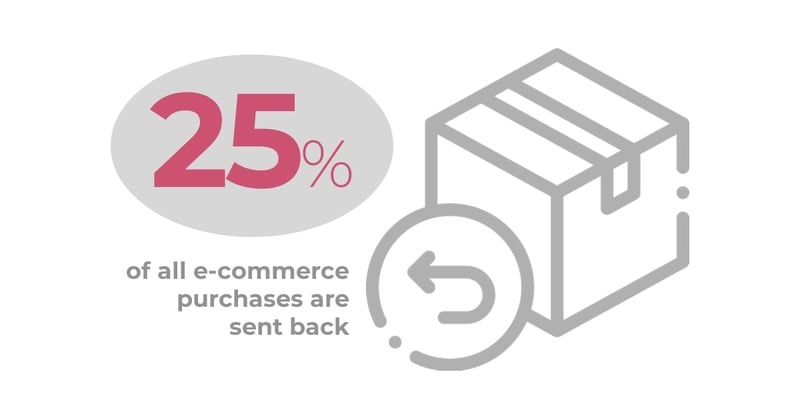 However, when it comes to furniture e-commerce, returns can significantly impact your business. Here are some tips on how to deal with returns:
Prevent returns with product visualization - Before looking for ways to deal with product returns, let's start by talking about preventing them. With high-quality product visualization, customers will know exactly what to expect. Thanks to advanced visualization technology, computer-generated imagery (CGI) often shows colors more correctly than photography. Moreover,

3D renderings can do things that photography just can't do

– 360-degree spin, product cutouts, or interactive room scenes. Having your product pages equipped with high-quality 3D visualization will help you decrease the number of returns.
Have a clear return policy - Consumers pay a lot of attention to the return policy before making a purchase. This is especially true for online shopping of big-ticket items. Make sure to create a dedicated page on your website where you will state all the details of your return policy. Transparency is the key.
Offer flexibility - To encourage consumer buying behavior, the key is to craft a return policy that makes sense for your business and your customers. But more importantly, it's vital to introduce a customer-centric policy that has long-term engagement in mind. From free returns and easy refunds to 60-days return policy and exchange for other products, furniture retailers can tailor a return policy that suits both sides.
Create sustainable return practices

- In some cases, returned goods end up in landfills. Even when the product is in good condition, retailers consider it more cost-effective to throw out returned items instead of cleaning and repairing them. But there is always a better way. A great example of having a

sustainable return policy

is the Californian mattress and bedroom products company, Puffy. All Puffy products are delivered with a 101-night sleep trial. This includes mattresses, bases, bedding, and bedroom furniture. If the customer wants to return the mattress for some reason, the company donates it to a local charity and provides the customer with a full refund. This is a great example of how a company can manage returns while helping someone in need.
9. Flexible and contactless payments become the norm
Offering consumers more convenience, safety, and flexibility in their shopping experience could increase the likelihood of the holiday season paying off. This goes for payment methods as well.
The COVID-19 pandemic has accelerated the adoption of "contactless" technologies. Mobile transactions are replacing cash, checks, and credit cards as people avoid exchanging paper currency or touching screens to complete transactions. First, it was out of safety reasons. Now, it's slowly becoming more of a behavioral shift because of its convenience.
PayPal reported that 34% of retailers selling in stores are implementing mobile payment options such as PayPal, Google Pay, Apple Wallet, and Samsung Pay. In the first two months of the pandemic, 30% of consumers have made mobile wallet transactions for the first time.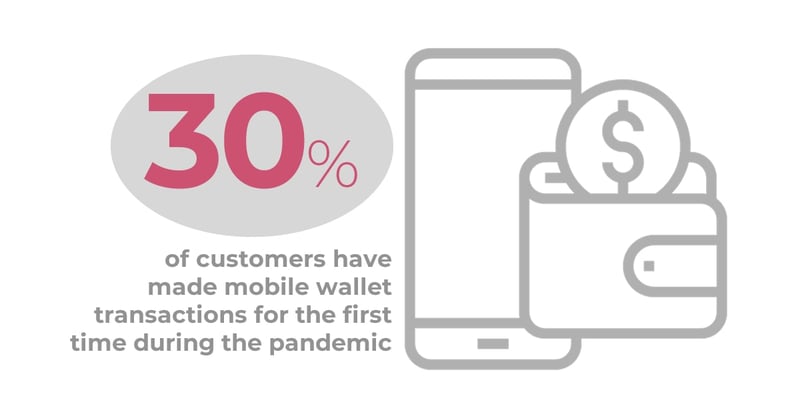 Besides this, online retailers have introduced buy now, pay later flexible payment options. This allows customers to make a purchase by paying a small amount of the total purchase price, receiving the product, then making additional payments (without interest) to complete the purchase amount over time. Buy now, pay later is making its way into the home industry, as more retailers offer this possibility for their customers.
10. Stand out from the crowd with mindful communication
The outbreak changed the way we socialize, shop, work, but also how we spend our free time. When consumers started spending more time at home during the pandemic, they also started using social media more.
According to GlobalWebIndex, the average number of social media accounts per Internet user globally has risen from 7.6 in 2017 to 8.1 in 2020, with the average time spent increasing from 2 hours, 15 minutes to 2 hours, 22 minutes.
However, as they are spending more time on social media, consumers are becoming averse to aggressive ads.
Showing customers you care and that you've taken all the necessary steps to make them feel welcome and safe in your stores or the initiatives that will make their online shopping easier are much more valuable than shiny ads without real value behind them.
Prepare for the future of furniture e-commerce
If you've reached the end of this blog post - congratulations! We admire your devotion to learn and prepare for the future.
The year 2020 has been hitting hard. And there are still a few months left. While it may seem enough to survive the year, retailers need to set a game plan for 2021 and beyond.
The actions you prioritize today can help you set the foundation for growth and future-proof your business.
We are also fascinated by the future of furniture e-commerce, which is why we constantly try to anticipate trends and answer your questions.
This holiday season will be nothing like what we've seen so far. But that's just the beginning. If you want to get ready for this holiday season but the future of furniture e-commerce as well, make sure to check out Ultimate Holiday Sales Guide for Furniture Retailers.
You can find out more details about these ten actionable tactics, but also statistics, expert quotes, and examples from leading furniture businesses such as Room & Board, Living Spaces, Wayfair.