As we witness the constant changes in furniture e-commerce, we become aware that furniture companies need to pay more attention to creating an engaging online experience. The big furniture players on the market have already invested heavily in building an omnichannel strategy, so besides their in-store experience, they deliver an unparalleled online shopping experience.
Consumers spent $861 billion online with U.S. retailers in 2020, up 44% from $598 billion in 2019, according to a Digital Commerce 360 analysis. With the pandemic's existence and no determined end date, furniture retailers can no longer wait to go back to the "old normal." Instead, they need to keep pace with technological development and step up their game by creating digital opportunities for their customers.
Numerous methods can help you create an engaging online furniture shopping experience. Here are nine best practices that some of the top furniture businesses implemented to increase their revenue by building high-converting e-commerce websites.
1. 360 Views
When it comes to furniture shopping, customers need to touch and examine the products before making a purchase. To compensate for the lack of tactile experience online, companies can rely on 3D visualization technologies.
Thanks to the constant technological advancements, customers can get the opportunity to examine the products in great detail through high-quality imagery and 360 spin views. According to Marketplace Sellers, "product pages featuring 360-degree spin photography have up to 50% higher conversion rates, up to 32% higher page visit duration, and even reduced returns by 15-50%."
While running an e-commerce business, you need to think of your customers and provide them with the best possible online furniture shopping experience. That means that you need to find different ways to create a delightful online experience that will replicate the sense of shopping in a physical store.
EQ3 is a Canadian furniture retailer that offers a 360-degree view option as part of their online shopping experience. Thanks to the 360 HD Viewer implementation, EQ3 managed to increase its online conversion by 36% and witnessed an 88% increase in the average order value (AOV). Besides this, EQ3 provides a click-to-zoom feature and a full-screen mode where customers can zoom in on the details and see the furniture in a 360-degree view.
2. Web-Native Augmented Reality
Adding 3D product visualization and augmented reality (AR) in your e-commerce shop will not only boost your online sales but will also increase customer satisfaction. The best way to differentiate yourself from other companies is to offer a furniture shopping experience that will keep your customers engaged in the digital world. And the best method to achieve that is by bringing the furniture closer to them. According to Interior Define, customers that engage with AR are eight times more likely to convert.
Web-native AR brings the furniture closer to the customers and enables them to see the product in real-time in their room. Now customers don't need to download an app to visualize the furniture they want to purchase for their homes. With the help of web-native AR, all they need to do is click on the furniture item they want in the e-commerce store and open a preview of that item in their space.
Interior Define is a digitally native furniture brand dedicated to creating and delivering the best online shopping experience. When you enter their online store, you can see the opportunity to inspect the furniture in AR.
Knowing that AR will become an inevitable part of buyers' path to purchase, especially in the furniture industry, webAR becomes necessary. Interior Define was one of the early adopters of app-less AR, allowing customers to place 3D models of selected products in the real world without downloading a mobile app. This experience has proven to be a successful way of keeping their customers engaged and getting high conversion rates.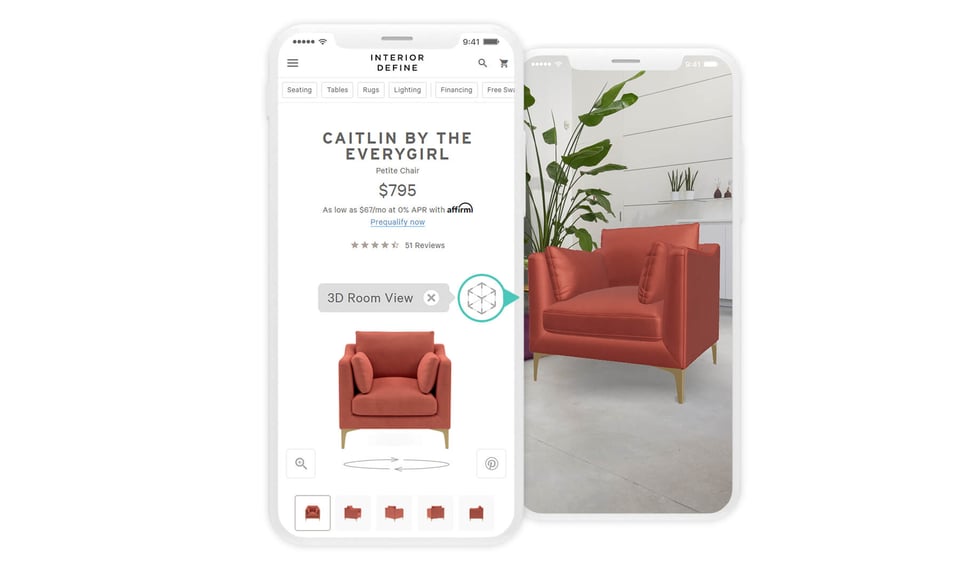 AR for Interior Define's Caitlin by the Everygirl Petite Chair
3. Room Scenes
Years of research and talking with different companies have led us to the conclusion that in-context images are vital for furniture businesses. Room Scenes are a customizable solution for presenting photorealistic lifestyle shots of the products in a realistic room. In other words, customers can see the sofa they want to purchase in a room setting and get a grasp of how it would fit in combination with other furniture items.
Creating room scenes as part of your online store is a great method to engage your customers even more and close the gap between online-offline experiences. According to our Top 100 U.S. retailers report, 95% of retailers have room scenes on their product pages, which confirms the importance of context for increased furniture sales.
The Australian furniture retailer Plush trusted this concept and started implementing room scenes in their online shop. In addition to the high-quality images of the furniture that can be seen with a 360-degree spin and an AR option, Plush also presents the items in different room settings.
What's more, Plush uses room scene images for email campaigns and retargeting people that abandoned carts, thus trying to boost conversions.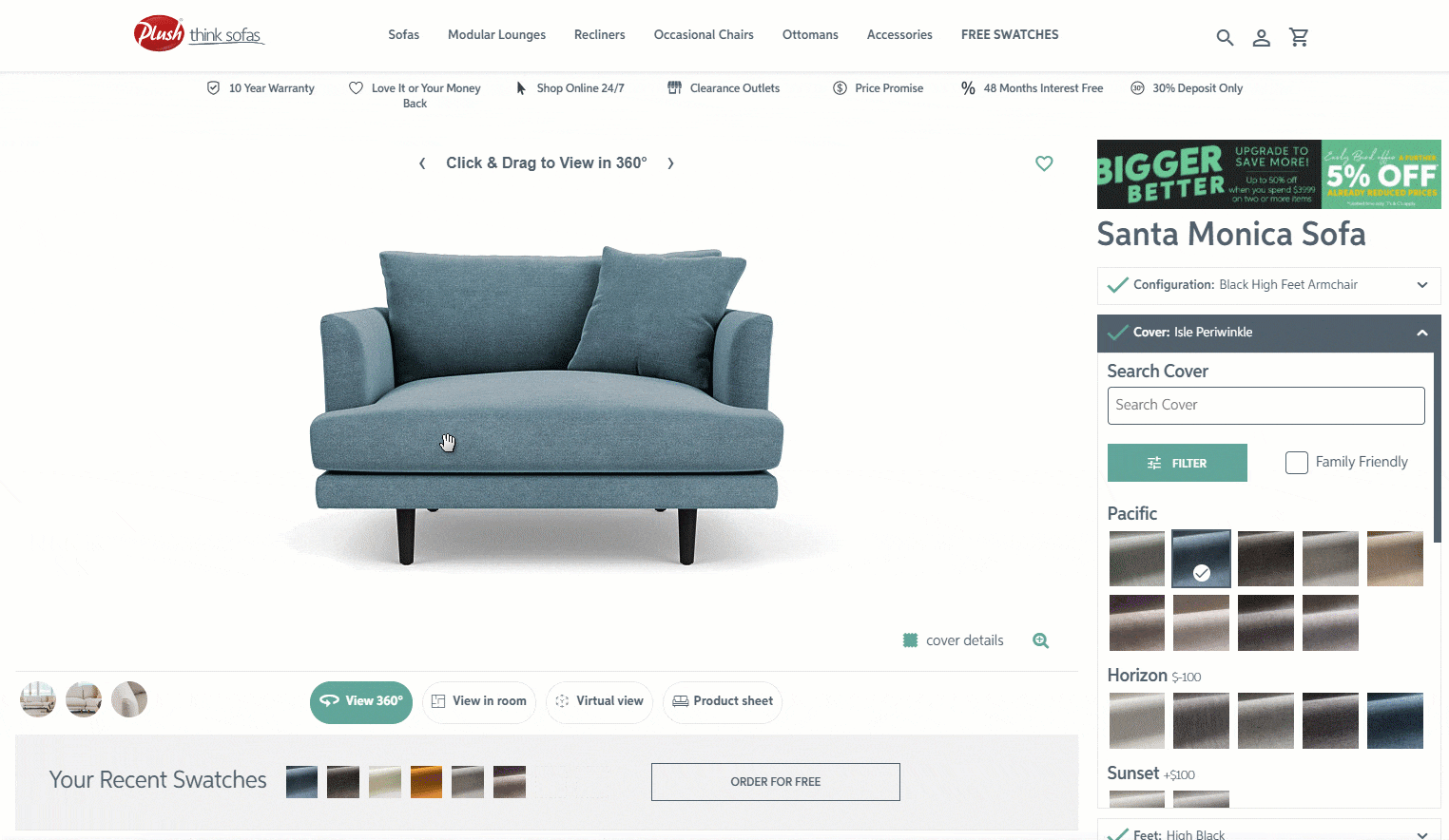 Room Scenes for Plush Santa Monica Sofa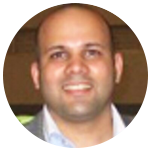 "At Plush, we take pride in offering customization and personalization. Cylindo room scenes have allowed us to help our customers visualize what their dream sofa could look like in a room scene. Cylindo sofa styling is lifelike, and the ability to showcase furniture in a room scene is just brilliant. Room scenes are an integral part of our customer journey and are helping us sell more sofas."
- Ash Mehta, Head of Digital & E-commerce at Plush
4. Mobile-First Approach
The usage of mobile devices has increased immensely throughout the years. Advancements in technology have enabled consumers to get everything right at their fingertips.
Customers today expect a high-quality, straight-to-the-point mobile browsing experience. Thanks to the increased usage of mobile devices for online shopping, e-commerce has noticed huge growth. According to Oberlo, mobile commerce sales are projected to reach $3.56 trillion in 2021.
Furniture businesses that haven't yet invested in this area are missing out on a growing customer base segment. In contrast, those that have understood the importance of mobile have already started reaping the rewards.
One of the furniture companies that implemented a mobile-first approach to offer a more engaging mobile shopping experience is Living Spaces.
If you browse through the Living Spaces website and online store on your smartphone, you'll notice a pleasant mobile shopping experience. After years of selling online, they decided to reinvent their digital experience. Together with Episerver and Luminos Labs, Living Spaces adopted a mobile-first approach to digital experience, resulting in an 89% increase in revenue from mobile shopping.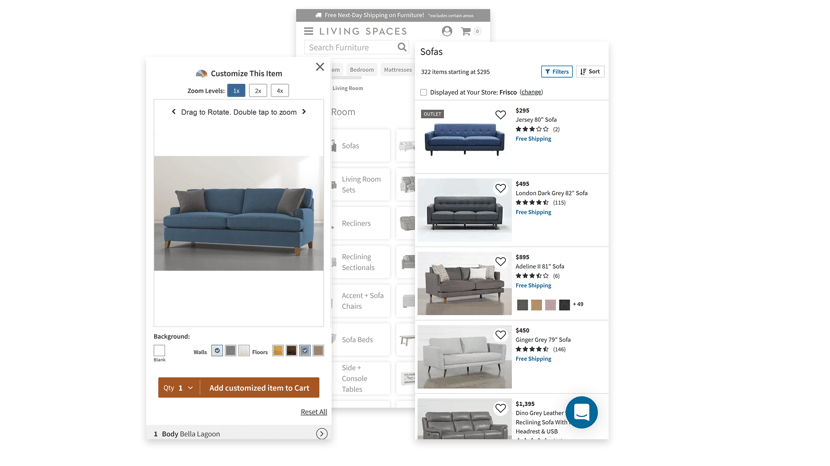 Mobile experience with Living Spaces
5. Virtual Consultations
When creating an impeccable furniture shopping experience for your customers, offering a virtual consultation with a design expert is of high importance. Video consulting enables customers to better understand the furniture item they want to purchase through expert advice. According to Shopify, customers spend up to 70% more with a personalized virtual consultation.
Ever since the pandemic started, furniture businesses had to create new sales strategies and channels to satisfy customers' needs. However, the implementation of online consultation has proven to be so beneficial that it will remain, even after the brick-and-mortar stores reopen and everything goes back to normal.
Jerome's is one of the furniture companies that has seen great benefits of offering online consultations. With the coronavirus outbreak, Jerome's Furniture wanted to do everything in its power to create an engaging shopping experience. To allow customers to consult with Jerome's team, they offered online appointments. Today, even though their showrooms are open, they still provide virtual consultations with their skilled experts to guide customers in making the right decision.
Another confirmation of Jerome's forward-thinking approach is the 2021 Innovation Award by Podium for solving unique challenges and improving its customer experience through an innovative approach.

Jerome's virtual consultations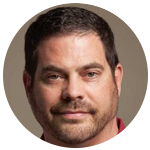 "When COVID-19 hit the world and businesses were shut down, setting up virtual consultations helped us not only get our business up and running but also show our customers that we're here for them. A few months later, we realized that even after we opened our stores, there was still a big demand for virtual consultations, so we just kept them. Offering virtual consultations adds the human element to the online experience, and I think in this day and age, people still crave human interaction."
- Scott Perry, EVP of Digital Marketing at Jerome's
6. Personalization and Product Recommendations
Furniture retailers strive to provide more "human" shopping experiences to their customers across all channels. Offering personalized product recommendations to your customers can easily put you ahead of your competition. According to Accenture, 91% of consumers are more likely to shop with brands that provide them with relevant offers and recommendations.
Unlike in the past, when retailers only offered product recommendations from the same collection, now they have started implementing more advanced personalization tactics. Today, tech-savvy players use personalization across their homepages, on the product detail pages, in the cart and checkout sections, as well as in their showrooms.
Room & Board is an American modern furniture and home furnishings retailer featuring a website built with an impeccable UX design and special attention to personalization. The first step they took in personalizing their entire website was getting to know their customers better. To create individual messaging across different customer segments, they've partnered with Kibo. Room & Board made the most of its rich customer data and a large library of creative assets, ultimately resulting in increased revenue and 80% higher conversion rates.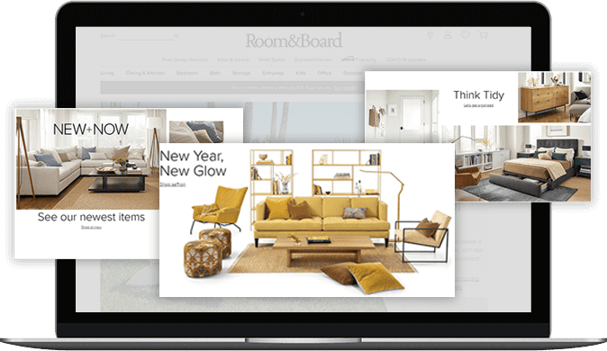 Design your space with Room & Board
7. Product Reviews and User-Generated Content (UGC)
They say that the best stories are the ones told by satisfied customers. And it's true. Product reviews and user-generated content (UGC) are crucial when it comes to purchasing a product.
Most customers who want to buy a certain product have the habit of searching for product reviews and feedback from other customers. A Yotpo study of on-site consumer behavior found that nearly 32% of all visitors to e-commerce sites click to view customer photos or read reviews, while 55% of customers engage with UGC before making a purchase.
Data from our research shows that 59 of the Top 100 U.S. furniture retailers feature customer reviews on their product pages.
Bob's Discount Furniture is an omnichannel business with a significant geographical footprint and a flourishing e-commerce presence. To ensure an engaging online furniture shopping experience for their customers, they decided to partner with Yotpo to start providing product reviews and UGC on their website. Thanks to that partnership, they collected over 25,000 product reviews and were able to identify the most high-converting topics and then showcase them as interactive filters on the website.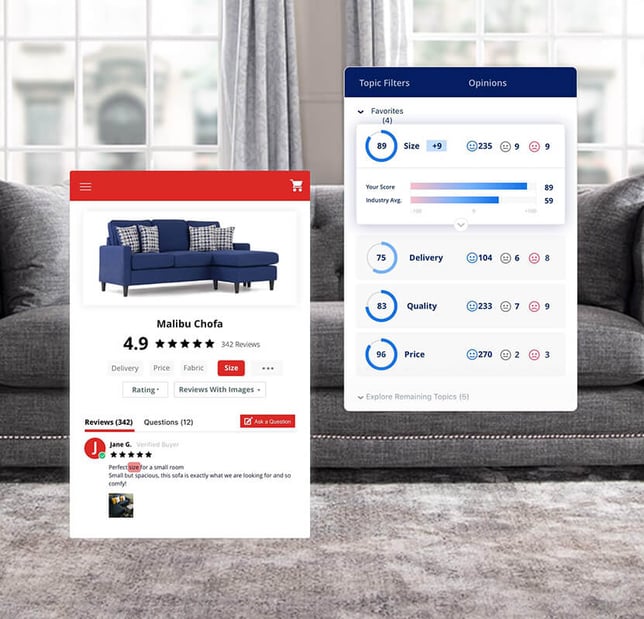 Product Reviews for Bob's Discount Furniture Malibu Chofa
8. Product Returns
Ever since a shift from physical stores to online shopping has happened, companies have been faced with an increase of 70% in the number of product returns in the retail industry, according to Morning Brew.
The best way to decrease the product return rate is to improve product visualization. Using high-quality 3D visuals can give customers a sense of what they're getting, so they'll know exactly what to expect when they receive the product.
Besides this, providing a flexible product return policy as part of the online furniture shopping experience can encourage customers to make a purchase. Furniture retailers started offering this benefit to their customers in different variants because they realized that it's one of the most critical factors for making a purchasing decision.
By offering a good product return policy, retailers can increase loyalty toward their brand and prevent losing customers. Meanwhile, customers can have more trust in a brand before purchasing, knowing that they can return the product if it's not what they expected.
Numerous furniture companies dedicate special attention to their return policies to keep their online customers satisfied. Inside Weather is one of the DTC brands that offers an outstanding product return policy. Their customers have a 365-day home trial of the furniture items they purchase.
This policy has proven to be very successful in creating a seamless online furniture shopping experience for buyers. Inside Weather managed to gain more loyal customers thanks to implementing a flexible return policy.
Inside Weather has a 365-days return policy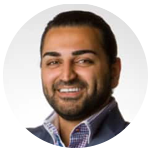 "Regardless of how well we educate our customers pre-purchase, we get that sometimes nothing is better than seeing it in person. This is why we've created the most accommodating return policy in the industry. While we know they'll love our sofa, they very well may not until they sit for themselves."
- Ben Parsa, CEO of Inside Weather
9. Buy Now, Pay Later
The buy-now, pay-later flexible payment option has been introduced by retailers and DTC furniture brands to convince customers to make an online purchase. This service has become more popular among furniture businesses because furniture is a big-ticket item that requires significant investment. Enabling the buy-now, pay-later method means that customers can pay a small amount of the product price, receive the product, and pay smaller installments each month.
This service has proven to be a successful method for gaining customers and encouraging them to buy online. According to Adobe, throughout the first two months of 2021, the usage of buy-now, pay-later services has increased 215% compared to last year. Adobe found that transactions using this payment method are 18% larger than orders placed with other payment options.
Design Within Reach is an innovative furniture retailer, offering the world's largest selection of authentic modern furniture, lighting, and accessories from top designers. They offer a wide range of opportunities to their customers to provide them with a unique and engaging furniture shopping experience. As part of their strategy for improving customer satisfaction, they decided to implement the buy-now, pay-later service. And it turned out to be a complete success. As Business of Home reports, Design Within Reach has noticed a surge in online shoppers for its design-forward ergonomic solutions.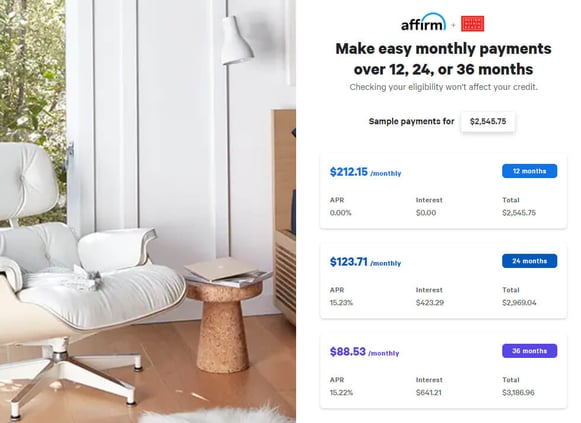 Design Within Reach's partnership with Affirm
This is just the tip of the iceberg when it comes to creating engaging online furniture shopping experiences, but it's a good place to start. If you want to learn how you can reinvent your digital experience with 3D product visualization, we're happy to help.