The past couple of years has been turbulent for the contract furniture industry. Apart from addressing the online-offline gap in shopping habits, furniture businesses had to adjust their existing product assortments and introduce new product lines to keep customers satisfied.
As if that were not enough, the furniture industry has been coping with increased inflation, supply chain limitations, and labor shortages.
The pandemic-induced trend of remote working triggered the need for home office furniture as one of the biggest growth areas in the industry. Contract furniture businesses wasted no time in expanding their focus within this category by creating products suitable for both commercial and residential use.
While office foot traffic marks a steady rise, many workers still continue to work remotely. As companies go all-in on the hybrid work model, the demand for traditional commercial furniture is trending upward.
Right now, it's of essential importance for contract furniture players to master the art of balancing. You must balance providing an engaging online and in-store experience, as well as offering traditional commercial furniture and a strong home office line.
Contract furniture industry outlook
The onset of the pandemic has undoubtedly brought massive changes in the contract furniture industry. Over the past decades, what used to be a pretty stagnant industry turned into a market with high potential for innovation and growth.
According to Statista, the U.S. saw a dramatic surge in office furniture sales figures due to the overwhelming demand for home office supplies, such as office chairs, whose popularity increased by 75% compared to the pre-pandemic period. Office desks also saw a considerable increase in popularity, as high as 62.8%. Conversely, bookshelves experienced a less dramatic but still noteworthy popularity surge of 38.1%.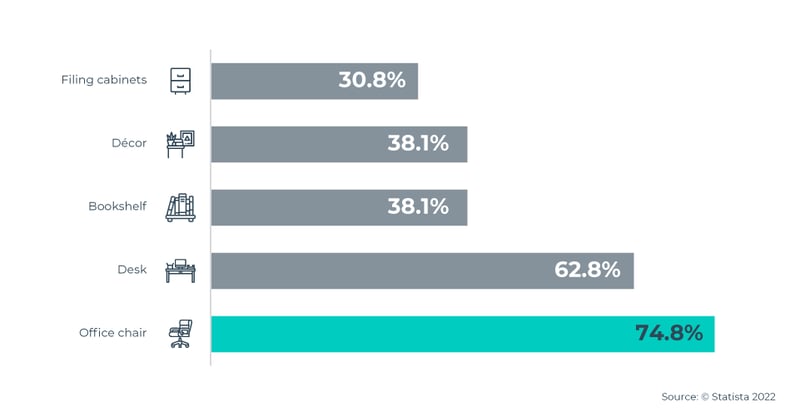 Being forced to work remotely left many individuals with no other alternative but to add a home office to their dwellings. Data from Furniture Today's Strategic Insights consumer survey shows less than one-third of millennials already had a home office. In contrast, nearly 39% of individuals in their twenties and thirties added an office over the pandemic.
While the trend of remote working is still underway, many companies have decided to adopt the hybrid work model and take advantage of the best of both worlds. Office foot traffic experienced a substantial year-over-year (YoY) growth during the first half of 2022. In June, YoY visits to the office were up 54.4%, 38.3%, 84.6%, and 31.2% in New York City, Chicago, San Francisco, and Boston, respectively.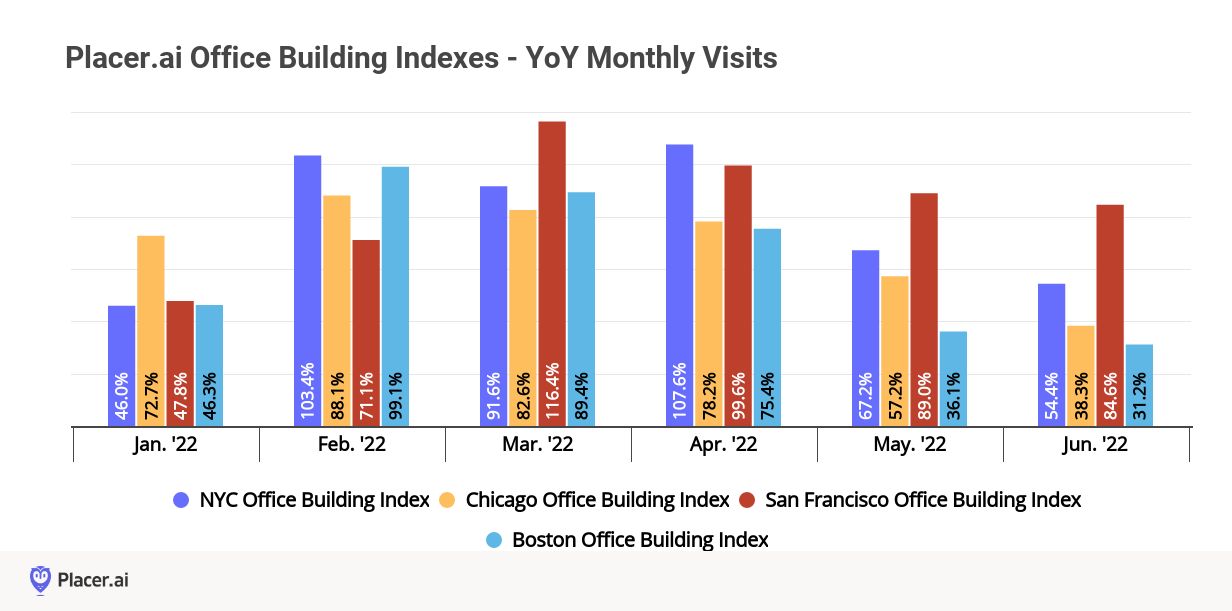 Even though office foot traffic is predicted to move in an upward direction, it's probably never going to reach the pre-pandemic levels. According to a CNBC Momentive Workforce Survey conducted in May 2022, "Sixty-five percent of workers across the U.S. are working fully in person from their offices, 14% are mainly working in person, 9% are working mostly remotely, and 11% are working fully remotely."
The contract furniture industry seems to benefit from these circumstances, as the market for both commercial and home office furniture keeps growing. The hybrid work model is likely to restore the balance between the demand for traditional and home office furniture.
The value of the global office furniture market is forecast to reach approximately $85 billion by 2026 compared to its current value of $59.34 billion.
In terms of regions, the United States is home to the largest office furniture market in the world, expected to reach a value of 14.3 billion dollars by 2025. It's no wonder some of the greatest office furniture players are set up in the USA.
In order for your contract furniture business to keep pace with the evolution of the industry, you need to stay on top of the latest trends to meet the requirements of modern buyers.
The latest trends in the contract furniture industry
Furniture businesses, in general, had a lot on their plate over the past few years. Contract furniture companies are no exception. The pandemic-induced shopping habits, along with the 3D commerce boom, resulted in the rise of certain industry trends. Most businesses were quick to jump on the bandwagon to stay competitive.
Let's have a look at the most prominent trends shaping the future of the contract furniture industry.
Home office furniture
While the pandemic compelled most individuals to reconfigure their homes in an attempt to accommodate makeshift offices, the home office trend is doubtlessly here to stay.
A survey by Zillow found that 31% of homeowners consider adding or improving a home office space as a top project on their to-do list. Given most homeowners tend to lack an extra room to designate as office space, they opt for functional space transformation ideas.
An interesting pandemic-inspired home trend that emerged this summer is the "cloffice." Houzz describes the newly coined term as transforming a closet into a workstation for smaller abodes.
As far as home office furniture purchases are concerned, desk chairs were the leading intended purchase across all generations in the U.S. in 2021. Data from Statista shows nearly 41% of millennials planned to buy an office chair, versus roughly 24% of baby boomers.

The soaring demand in the home office segment prompted many furniture players to introduce a brand new home office line or expand their existing contract furniture assortment. For instance, while Steelcase has always been recognized for its commercial office lineup, it eventually laid eyes on the home office segment as a growth opportunity.
Similarly, back in 2020, Uhuru Design, a designer and producer of New American Design furniture, launched Propr, a DTC home office furniture line, with the aim of serving the needs of Americans working from home.
Home office furniture was initially considered a fad, but it soon turned into a long-term trend, given the work-from-home model kept on fueling the home office segment.
Consequently, you have to step up your game by ramping up product development to stay on top of consumers' changing interests.
Another crucial trend emerging within the home office category is smart office furniture. According to Furniture Today, this segment is projected to grow globally by a compound annual growth rate of 20% from 2020 to 2024.
Mergers and acquisitions
The contract furniture industry has seen a soaring number of mergers and acquisitions over the past few years. Some of the most prominent contract furniture players have decided to take such a step in the hope of complementing their portfolios, providing a more dynamic customer experience, as well as expanding their reach.
For instance, Herman Miller, a globally recognized player in office chair design, acquired Knoll, a contract furniture specialist, in July 2021. They boast 19 brands in approximately a hundred different countries, 64 showroom locations worldwide, and over 50 brick-and-mortar retail stores.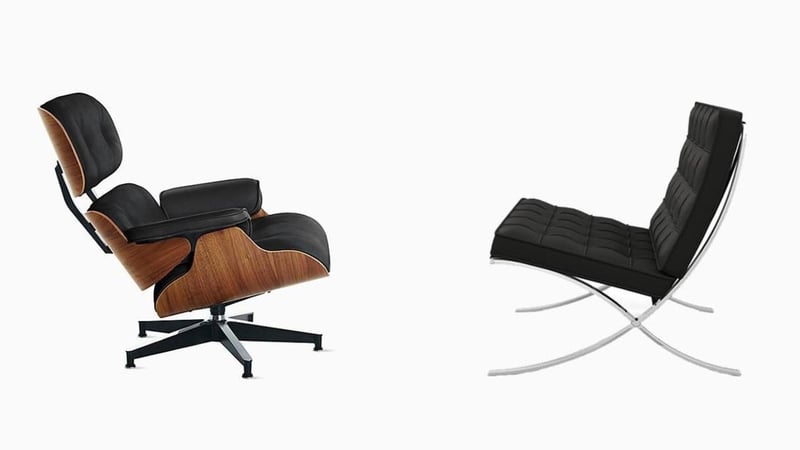 This merger allowed Herman Miller and Knoll to combine their talent and technology for the purpose of responding to the requirements of their customers, both in office and home environments.
Vangard Concept Offices, on the other hand, decided to reorganize its four locations in the U.S. along with its three Canadian locations under a single brand, known as The Collective. As stated in a Furniture Today article, the existing brands coming together as The Collective include California-based VCO, Toronto-based Office Source, and SCI Interiors, another Canadian brand out of Toronto.
The most recent acquisition in the contract furniture industry involves Steelcase, an office furniture giant, and Halcon, a recognized manufacturer of finely crafted wood furniture for the workplace. By acquiring Halcon, Steelcase has a chance to take advantage of its fine craftsmanship in addressing the unique requirements of clients.
The rise of the circular economy
The impact of the furniture industry on the environment is huge. According to the U.S. Environmental Protection Agency's estimations, an average of 9,680 tons of furniture waste is landfilled annually. Hence, sustainable office furniture is rightfully gaining an increasing amount of attention.
Office chairs and desks have burdened the environment for so long by ending up in landfills. Consequently, remanufacturing is the ideal solution for recycling and reusing furniture items instead of just throwing them away in dumping grounds.
Remanufacturing is the core of the circular economy. Sustainability is vital for businesses going forward, as designing office furniture products that can be remanufactured with multiple lives provides enormous environmental benefits.
Unlike ever before, contract furniture companies, like Steelcase, are becoming more cognizant of their environmental impact. Steelcase has won multiple awards and recognitions dedicated to its positive ecological impact and efforts to reduce climate change.
As a contract furniture business, you should develop a forward-looking mindset with the goal of protecting the environment. Make sure you prepare for the circular economy by tackling embodied carbon, minimizing packaging waste, and utilizing smart product materials.
Product page best practices from 5 leading contract furniture businesses
Bridging the online-offline gap to address consumers' demands has been a challenging journey for most players in the contract furniture industry. Apart from the apparent necessity to upgrade their website's user experience, contract furniture companies also had to expand their product assortments. In a nutshell, laying dormant was no longer an option.
Let's dive into the product page best practices from five contract furniture players who managed to stay at the forefront of the industry despite all hurdles.
Knoll
Knoll has rightfully earned its reputation as one of the top players in the contract furniture industry, with over eighty years of experience under its belt. Since 1938, this constellation of brands has been devoted to creating residential and workplace furnishings featuring modern design. Nowadays, Knoll is highly dedicated to manufacturing sustainable furnishings with exquisite craftsmanship in mind.
Knoll's product pages provide delightful online shopping experiences for visitors powered by 3D product visualization. When customers open a product page, a visual is displayed, along with product information details.
There is a "how to purchase" button just below the visual. Once customers click this button, they are presented with useful information about showrooms, dealers, home design locations, and online shopping.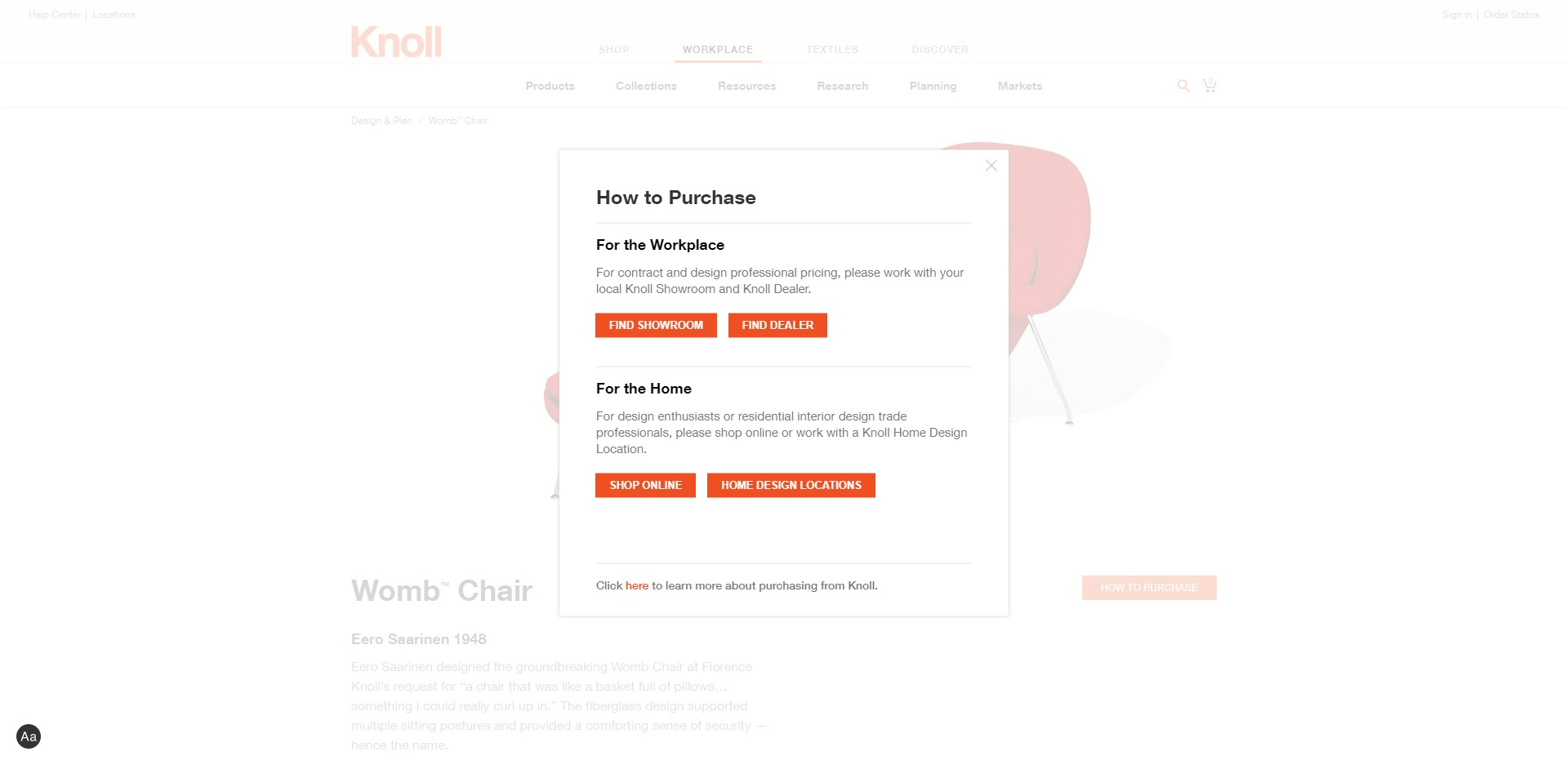 By scrolling down the product page, visitors come across an image library and downloads section. In the downloads section, customers can download brochures, product literature, assembly instructions, operating instructions, and pricing information.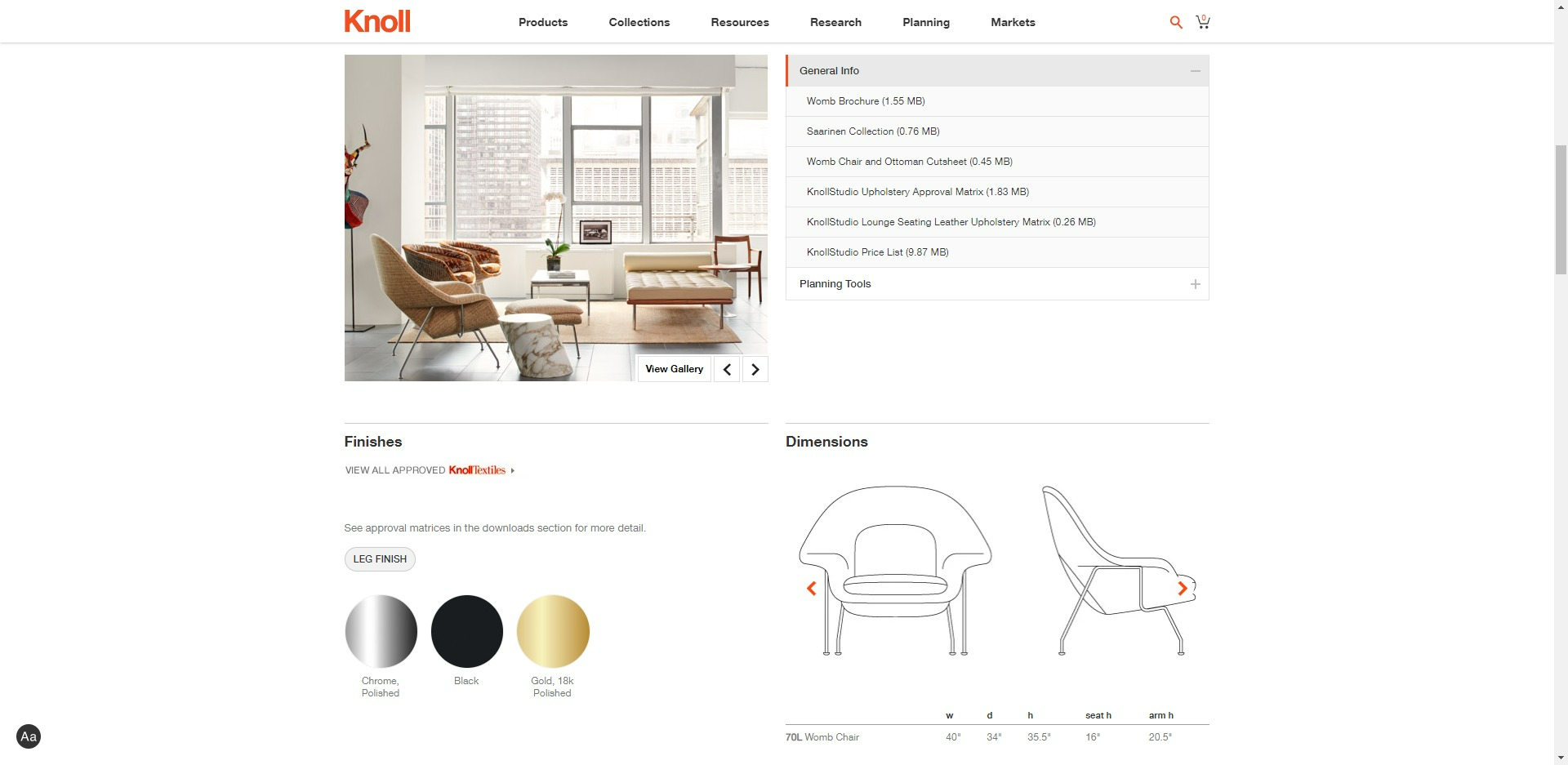 Customers can scrutinize most of Knoll's products by taking advantage of their 360-degree viewer. This attractive feature allows visitors to spin the desired product to view it from multiple angles.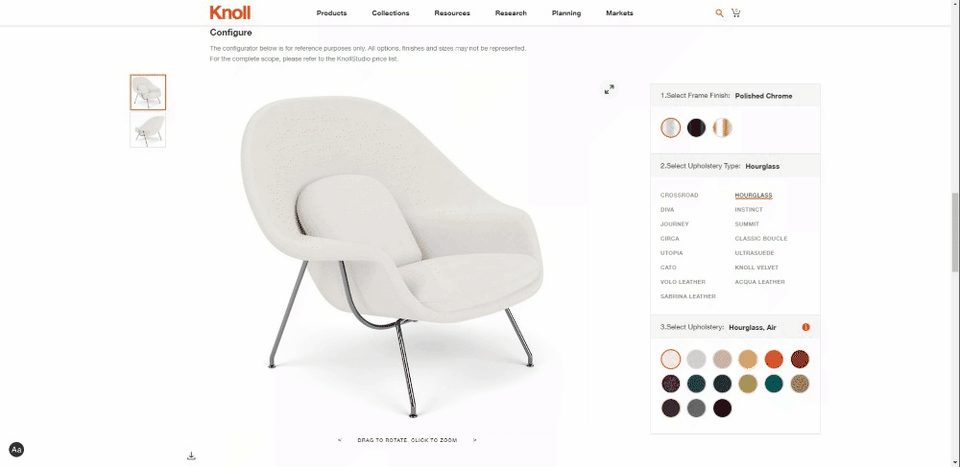 Knoll's 360 viewer goes hand in hand with their product configurator, enabling customers to select different fabric colors, upholstery options, frames, arm options, seat finishes, etc.
Another prominent feature complementing the 360 viewer on Knoll's website is 4K zoom. Customers find the 4K zoom feature incredibly helpful, as they can zoom in on any item to inspect the texture and color of the material.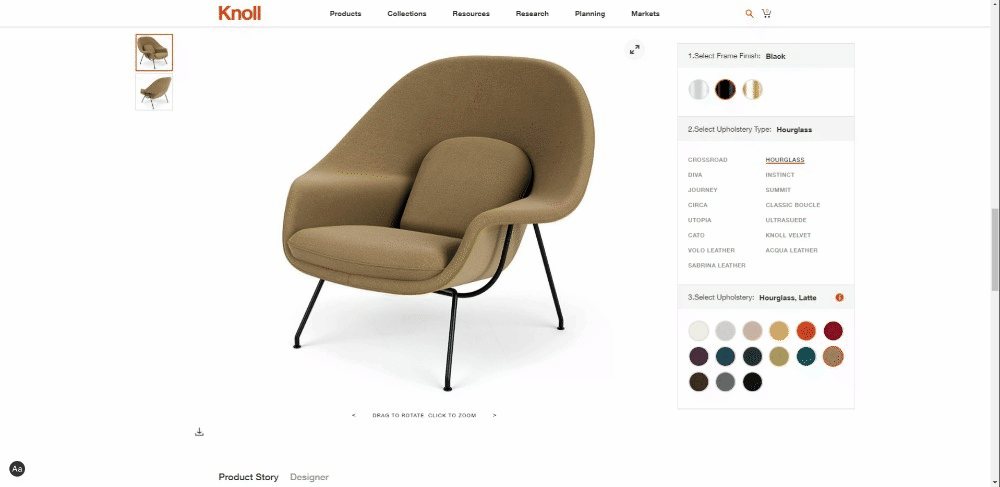 The bottom of the product page is reserved for product recommendations based on customers' interests.

In a nutshell, Knoll's product pages enable contract furniture shoppers to reach more informed decisions while enjoying the interactive shopping experience.
SitOnIt Seating
SitOnIt is a dominant U.S. manufacturer of commercial furniture, known as the front-runner in the task chair category. While task chairs are its specialty, SitOnIt also offers an extensive assortment of tables, benching, lounges, and screens. Its work-from-home category includes a home edition of selected tables and chairs specifically designed for home offices.
When visitors enter a product page, they see an in-context image of the product, as well as a "customize & price" button that leads to the ChairBuilder+ tool.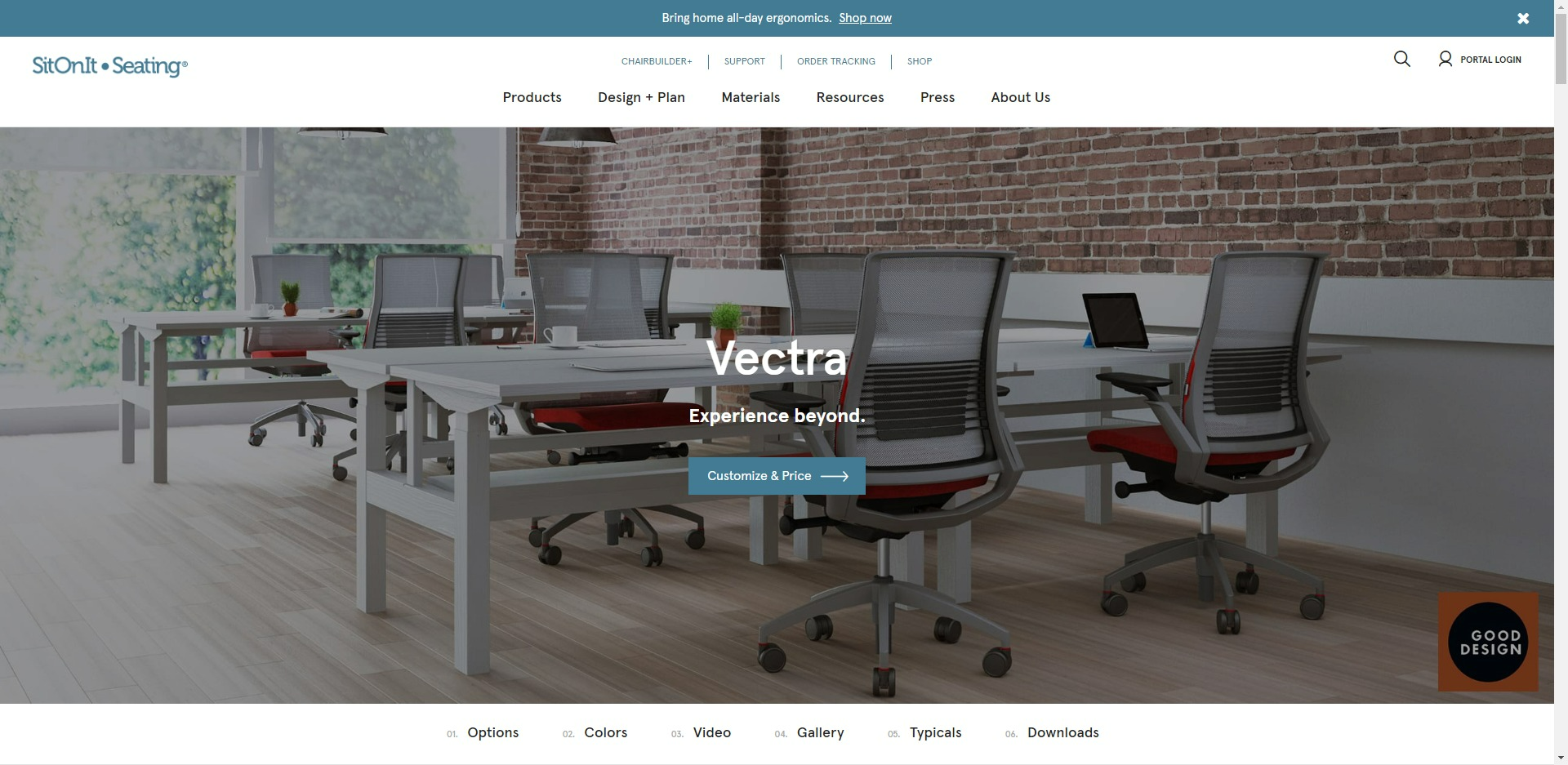 Just below the header image, there is a horizontal navigation bar that leads visitors to different sections of the product page, including options, colors, video, gallery, typicals, and downloads.
Customers looking for an interactive experience can click on the "customize" button and be directed to the ChairBuilder+ tool. By using this visualization tool, they are only a few clicks away from designing a seating or table solution.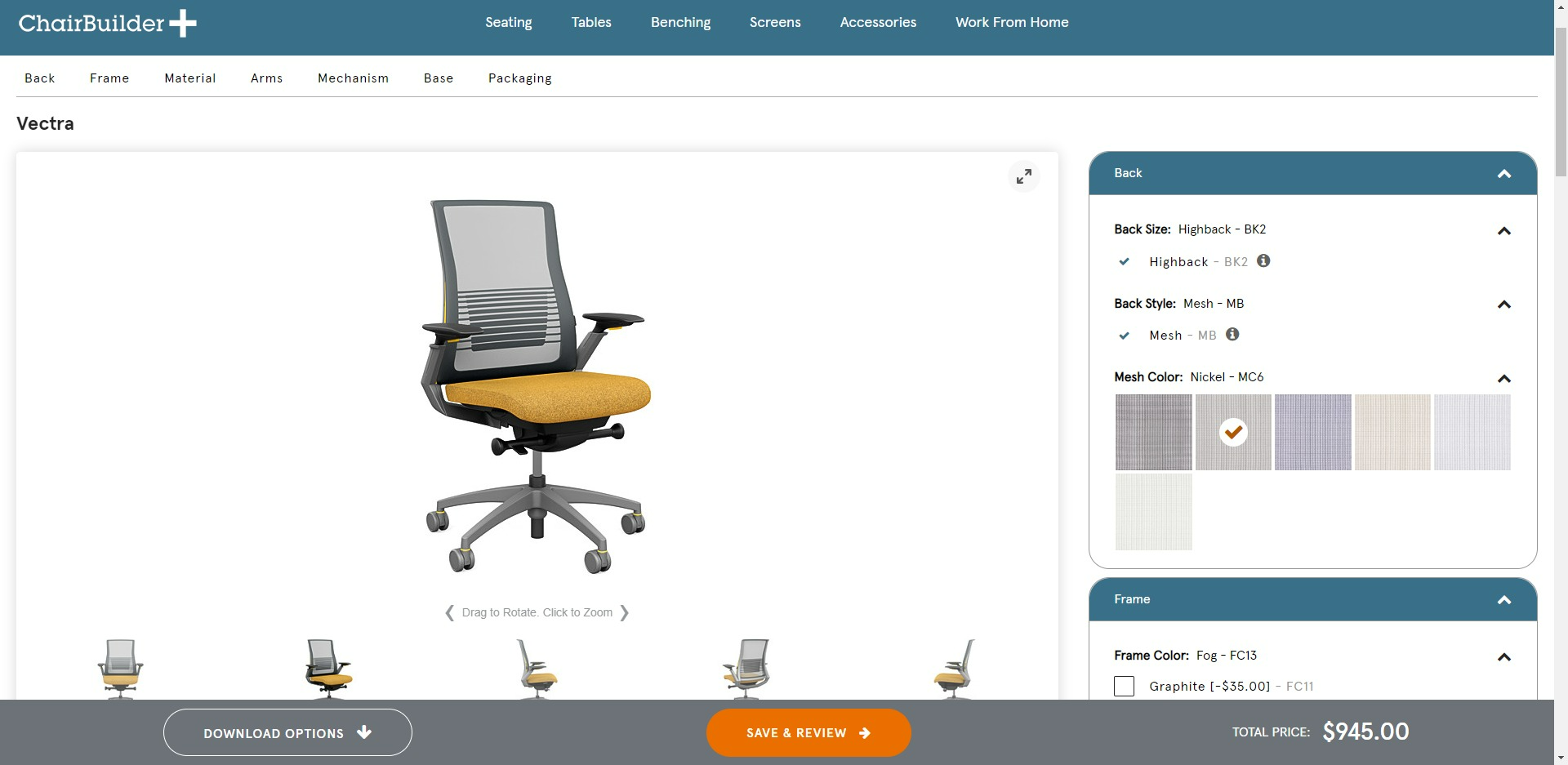 The ChairBuilder+ tool allows customers to visualize the selected product in 360, zoom in to inspect its material and structure, and see alternate angle images.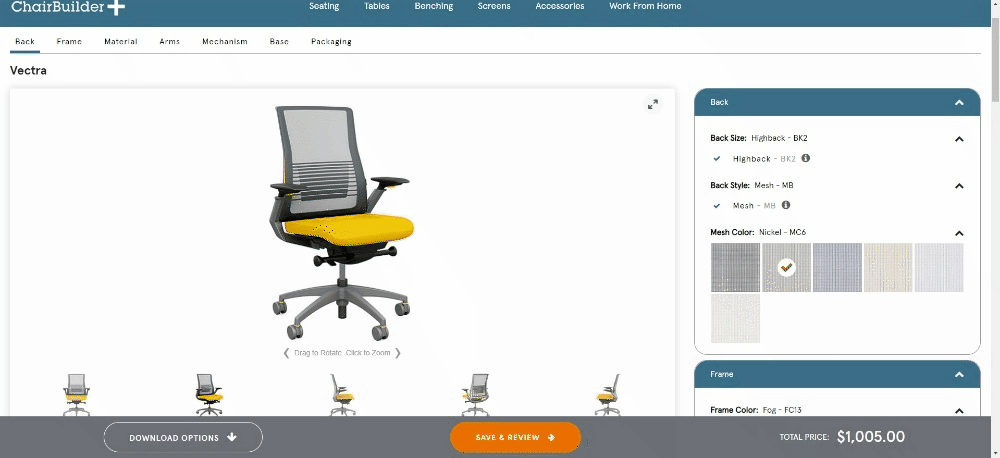 There's a product configurator on the right that aids the customization process. A horizontal menu with different product elements is featured above each furniture item. By clicking on a particular element from the horizontal menu, customers are driven to the corresponding section of the configurator.
For instance, when tailoring a task chair, visitors can set their preferences in terms of back style and size, seat style, frame color, material, arms, mechanism, base, and packaging.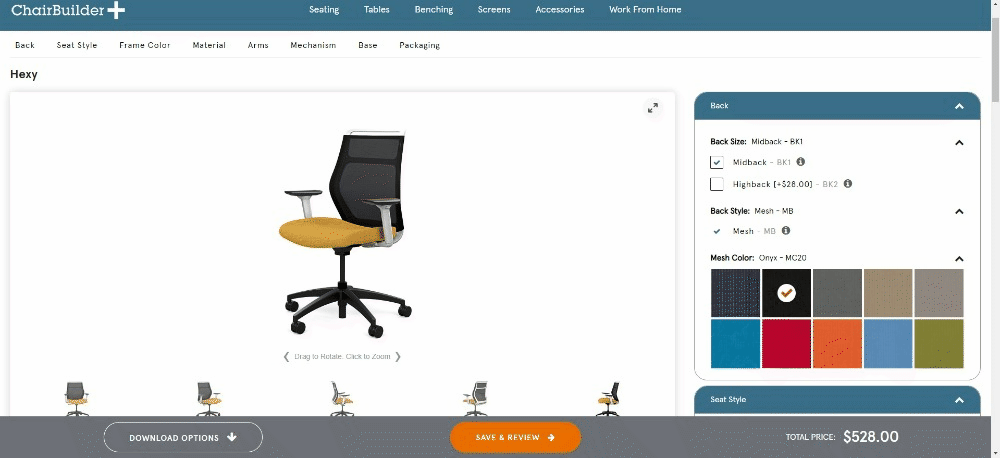 At the bottom of the product page, in the right corner, consumers can check out the total price of the tailored product. The save & review option provides them with a summarized list of their product preferences.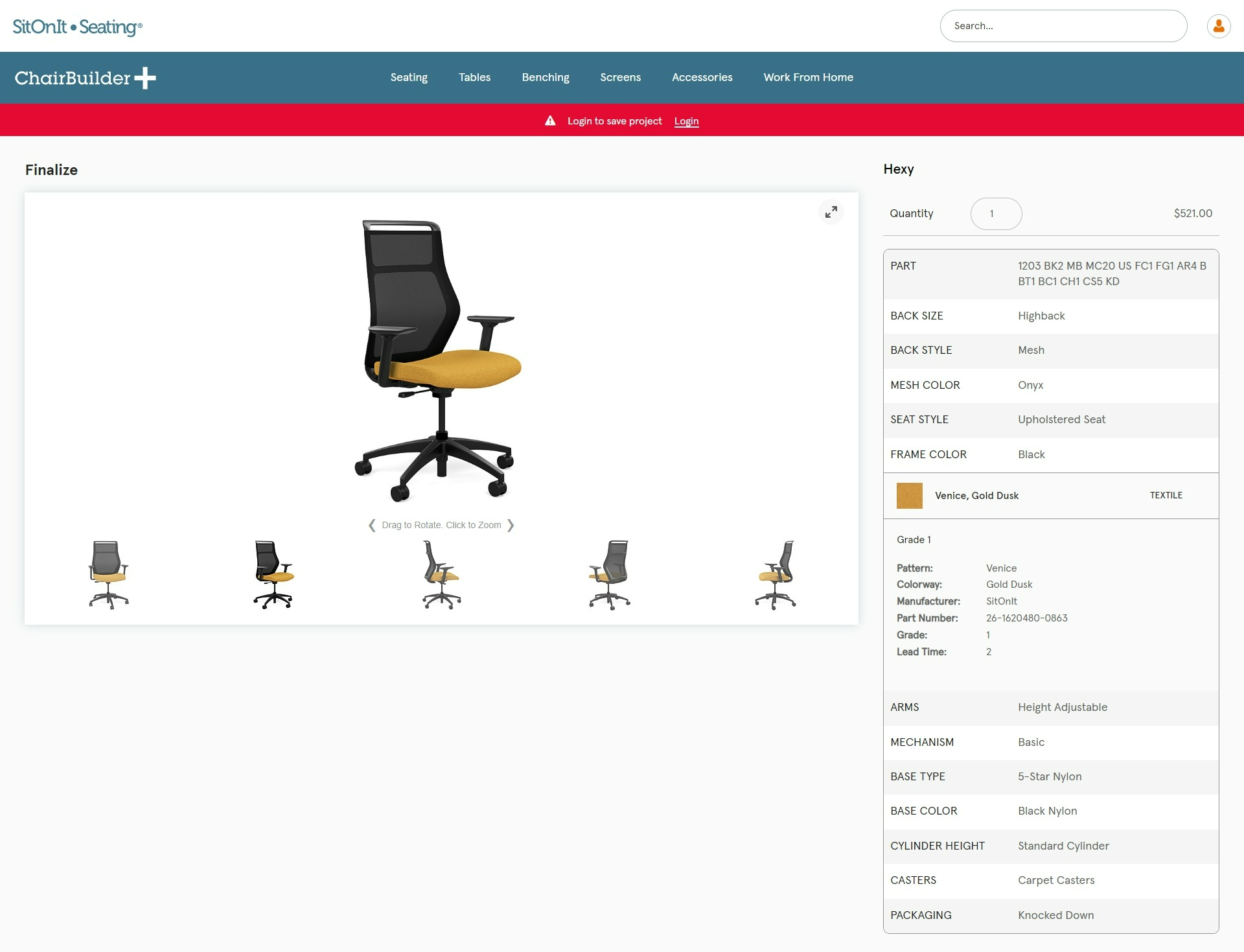 In the footer section of the product page, visitors also come across a set of download options, allowing them to download product specifications, PDFs, or product images.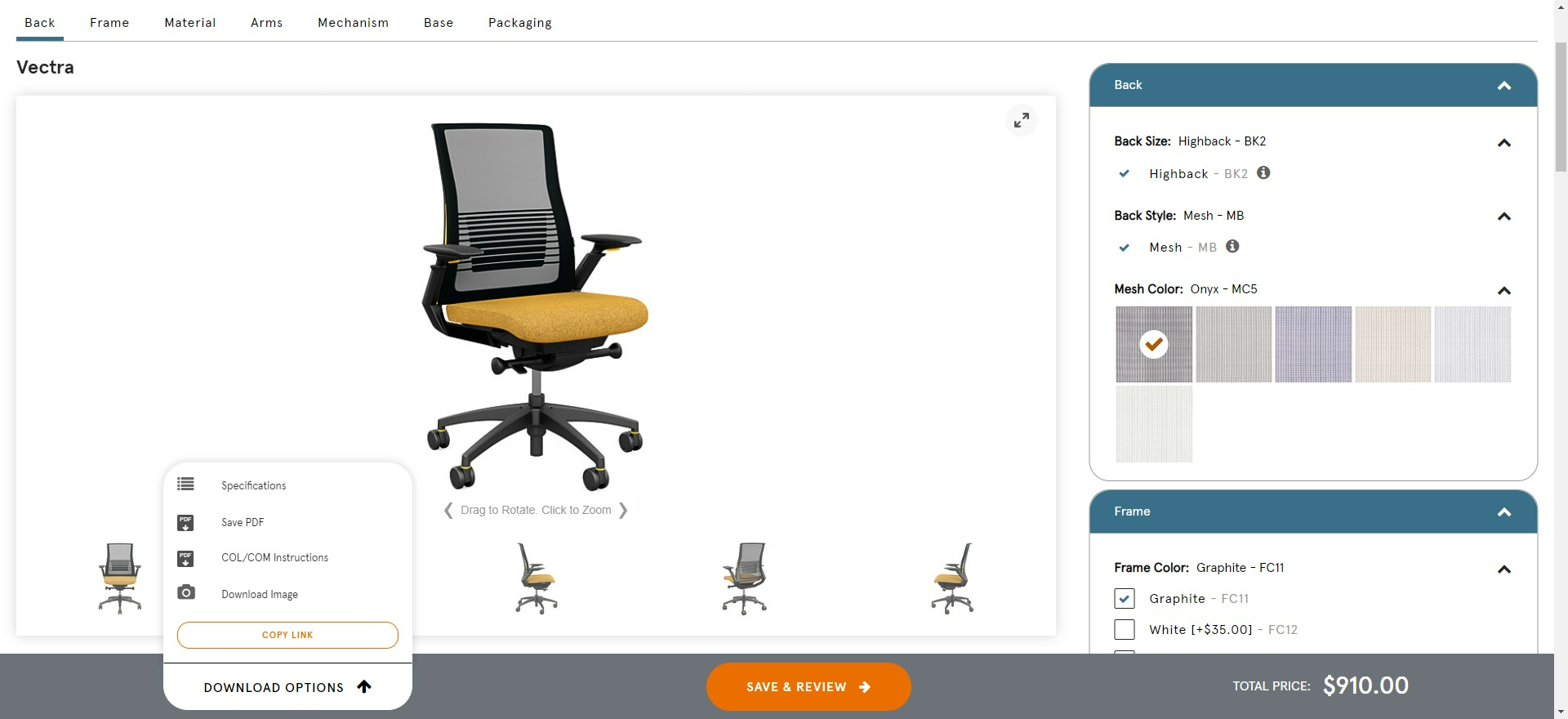 The overall product page experience is pleasant and rich with engaging features, such as HD zoom, a 360-viewer, and a product configurator.
Steelcase
Steelcase is another prominent U.S. leader in the contract furniture industry, offering a vast range of furniture, architecture, and technology products. Besides its commitment to innovation, Steelcase works tirelessly to make a contribution to building a more sustainable society.
When visitors open a product detail page, they see a manually controlled carousel with a variety of in-context images available for downloading. Right below the carousel, there's a horizontal menu enabling customers to choose between images, specs, materials, 3D models, and documents.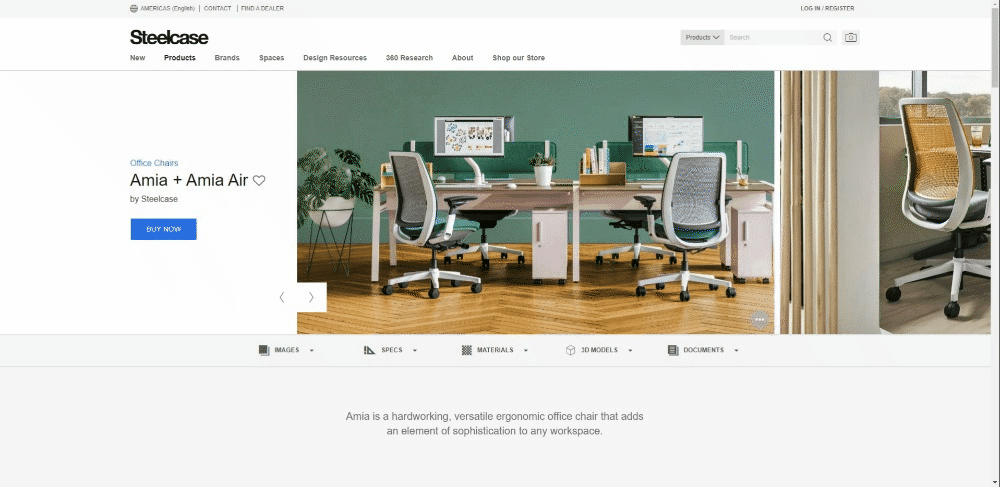 On the left side of the carousel, there's a "buy now" button that takes visitors to a page where they can build their own product. Customers can see the furniture piece in both 2D and 3D.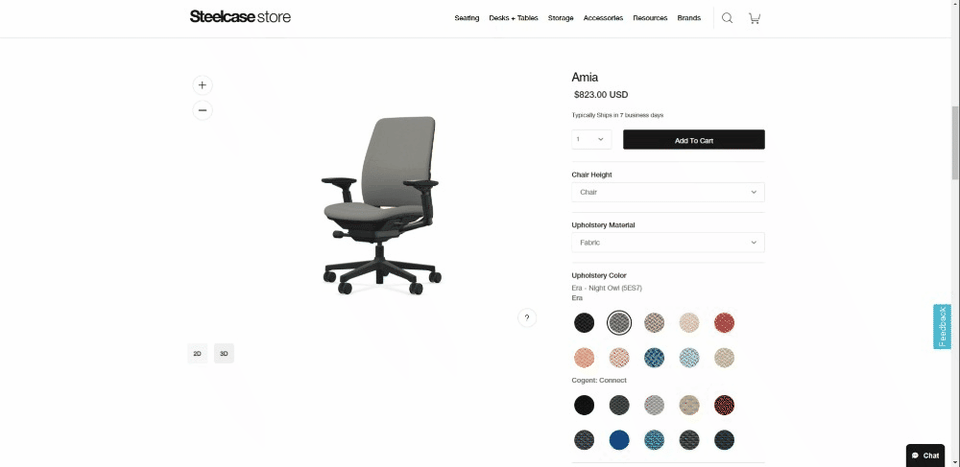 A product configurator is available for shoppers to choose between multiple variants of upholstery material, upholstery colors, frame colors, and bases. Those interested in inspecting the upholstery can use the zoom-in button.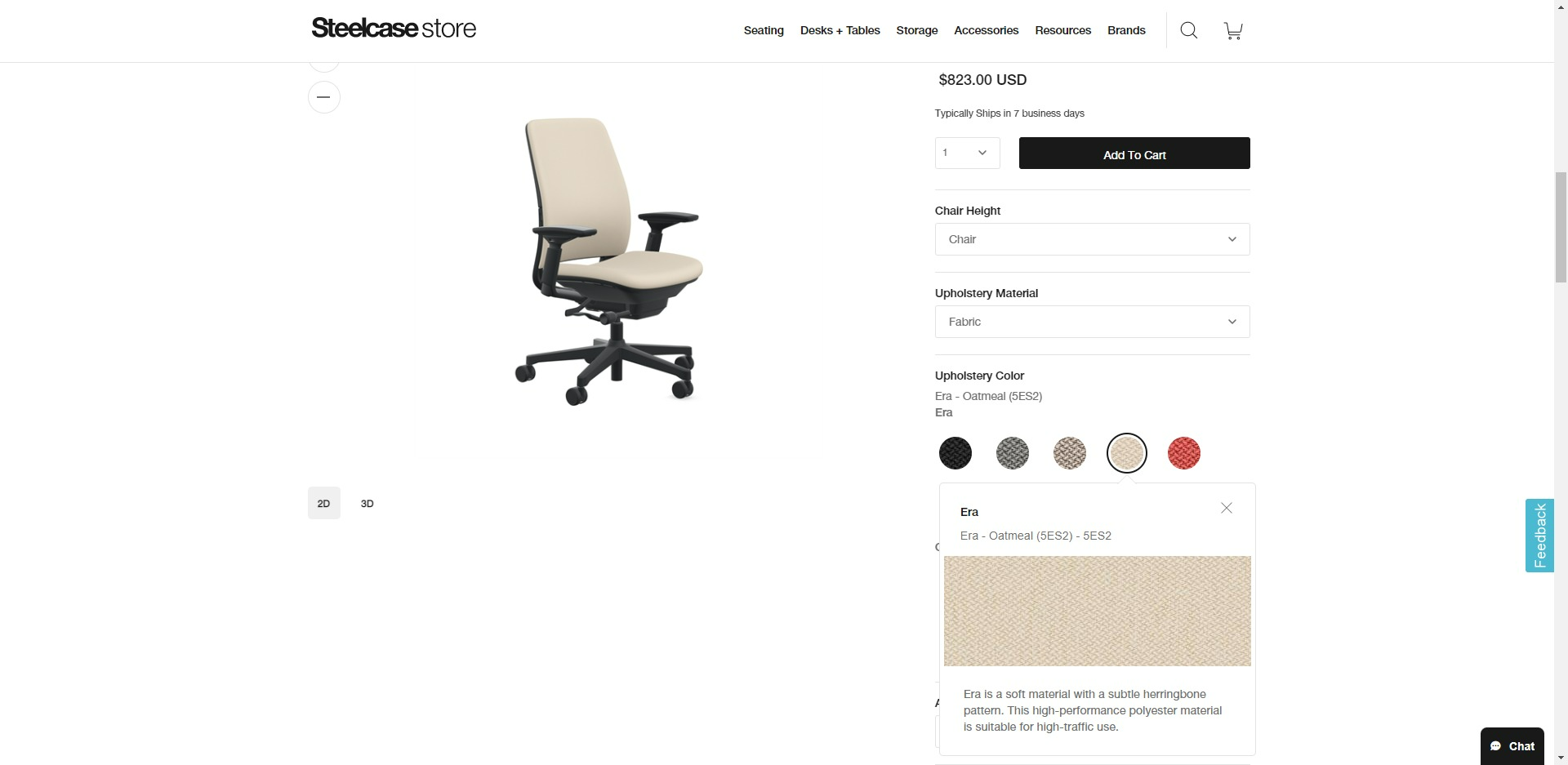 Product details are listed below the configurator in three sections, including an overview, specifications, and assembly instructions. At the bottom of the product page, shoppers are offered related products based on their previous shopping experience, as well as a FAQ section.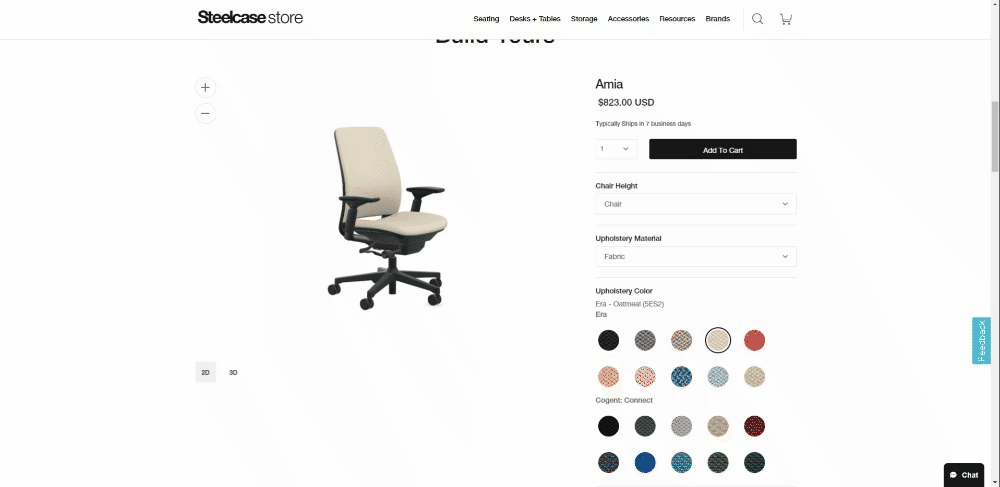 In a nutshell, Steelcase's product page experience is clean, engaging, and straightforward. Nevertheless, there's room for improvement in the mobile experience due to the slow page load speed, especially when interacting with the product configurator.
Haworth
Haworth is a family-owned contract furniture manufacturer based in the U.S. They are experts in providing product solutions with a specific focus on flexible, organic workspaces. Apart from designing and manufacturing seating solutions, desks, tables, and storage options, Haworth boasts an array of desk dividers and office partitions.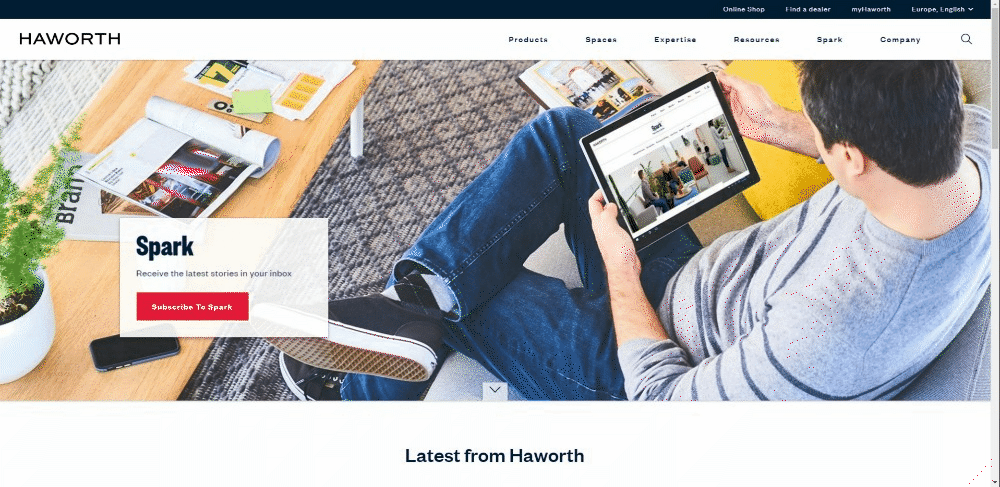 Once shoppers select a particular product category and an item they wish to purchase, they are directed to a PDP. By clicking on the "design your own" button, customers can tailor a 3D model of the chosen product.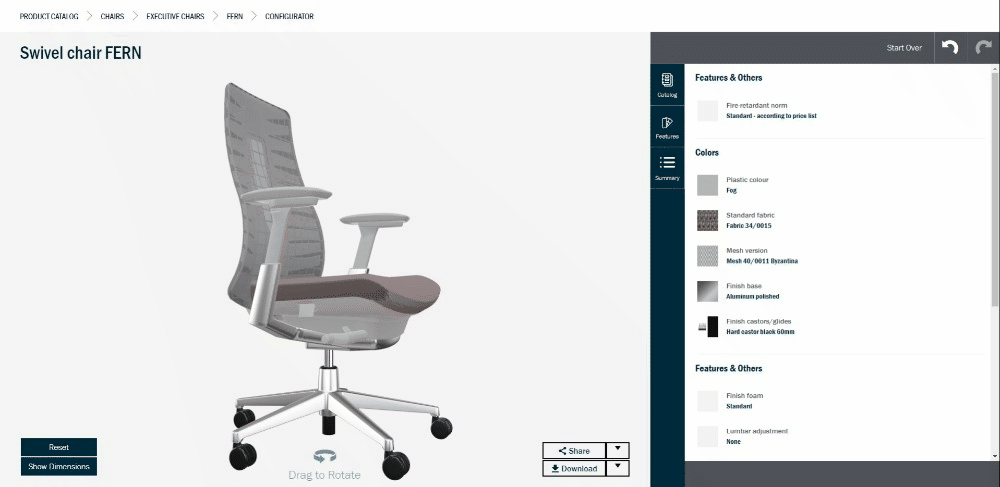 Haworth's online product configurator enables visitors to create their ideal model by tailoring the options and finishes to their taste. The list of features on the right side guides them through the customization process.
Besides the array of available features, customers can also check out a catalog with ready-made product configurations and a summary of the preferred configuration.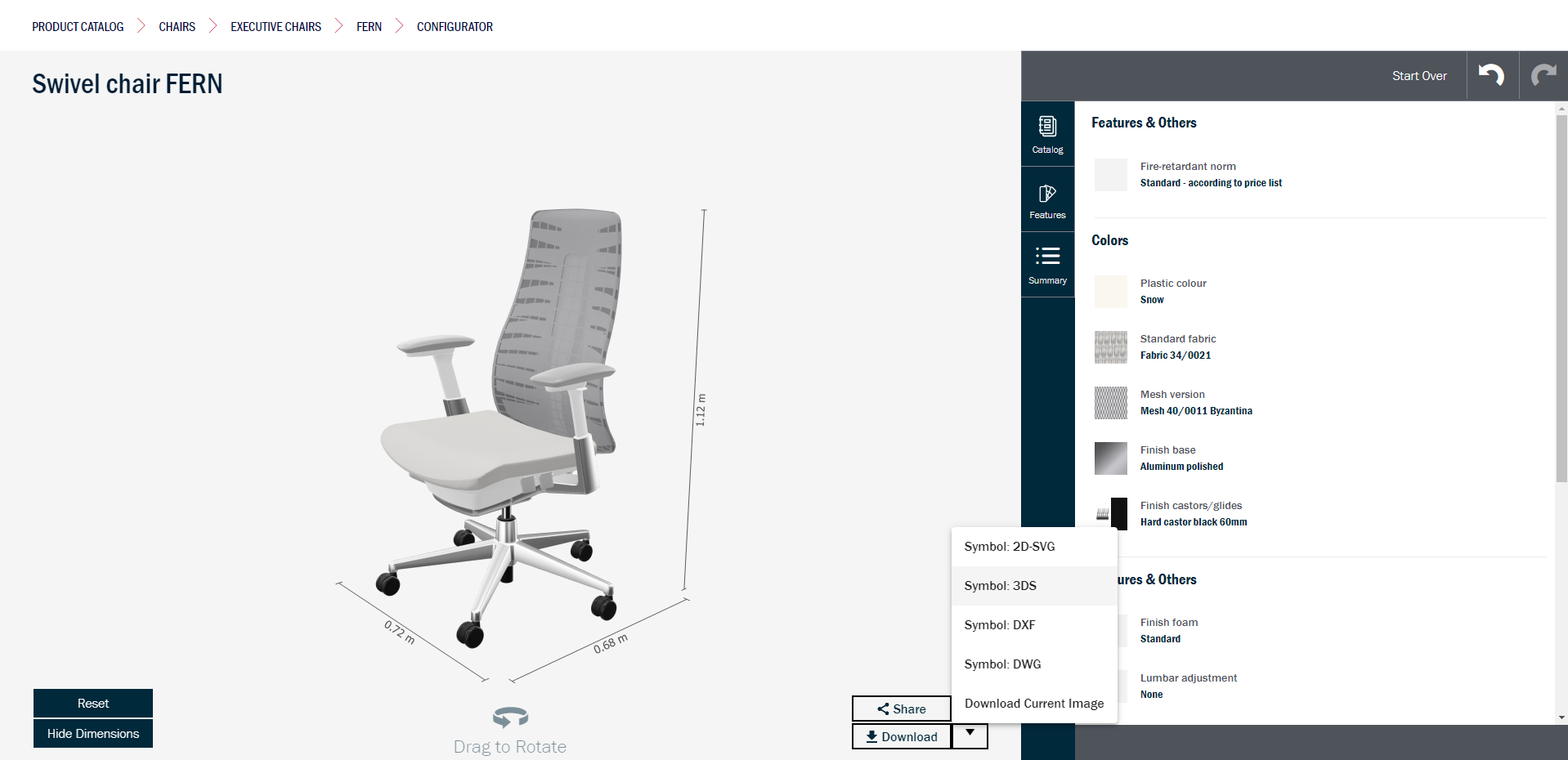 At the bottom of the page, visitors can gain insight into the product dimensions, share the displayed image or download it.
In general, the website experience on Haworth's site is clean and pleasant. There's room for improvement by adding call-to-action buttons, such as a showroom or dealer locator on the PDP instead of having them at the bottom of the page in the footer.
HON
Hon is a well-known U.S. designer and manufacturer of inspiring, long-lasting office furniture, including office chairs, desks, tables, filing cabinets, and cubicles. The sustainable design of HON's products makes sure they can be disassembled for recycling at the end of their lifecycle.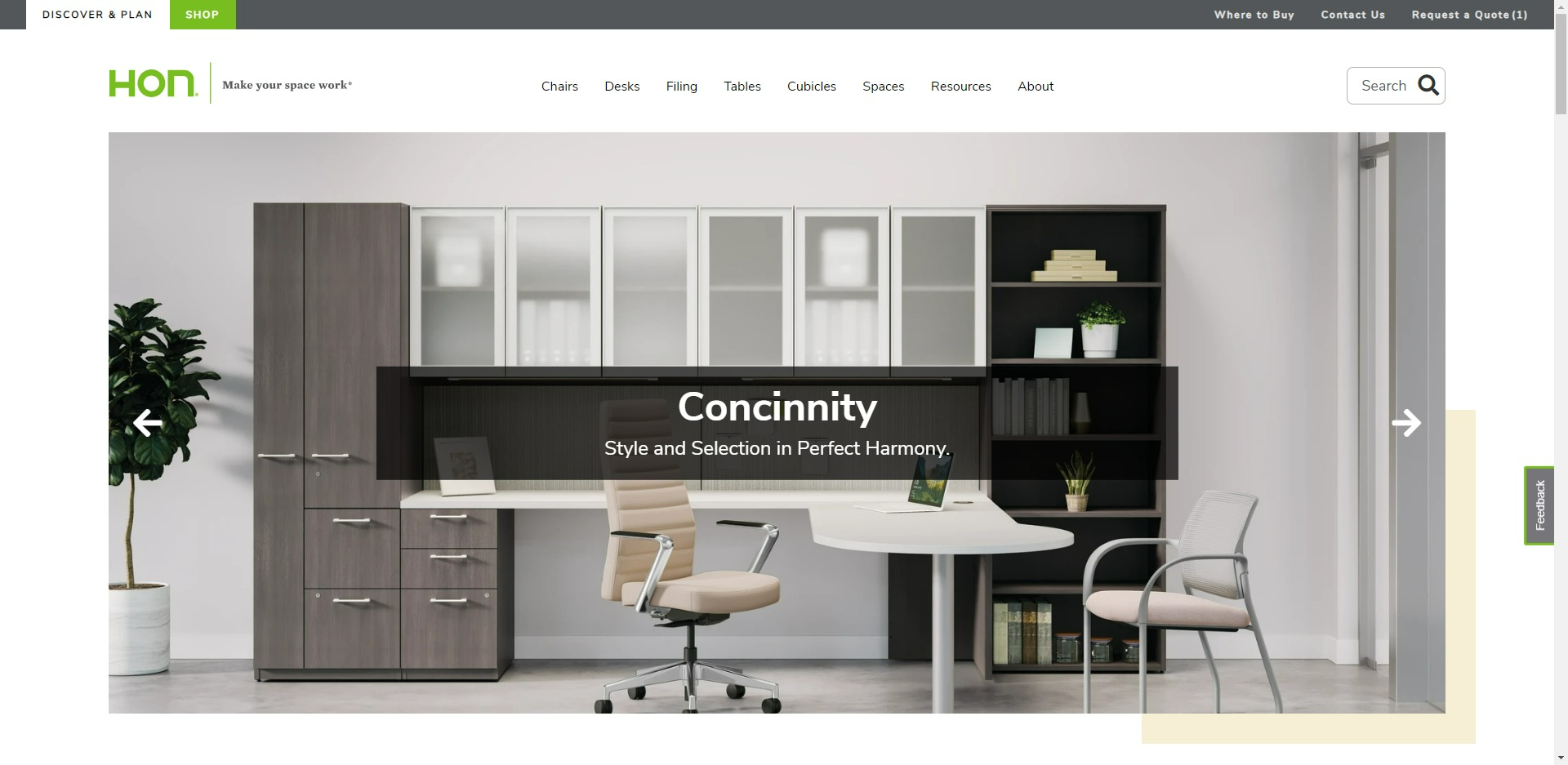 After selecting a product category on HON's homepage, a product feed appears with thumbnail visuals of available subcategories. Customers need to select a particular furniture item to be driven to a PDP. Once they do, they see a product visual, which can be turned around in 360-spin. Nevertheless, the 360 viewer is only available for a portion of their products.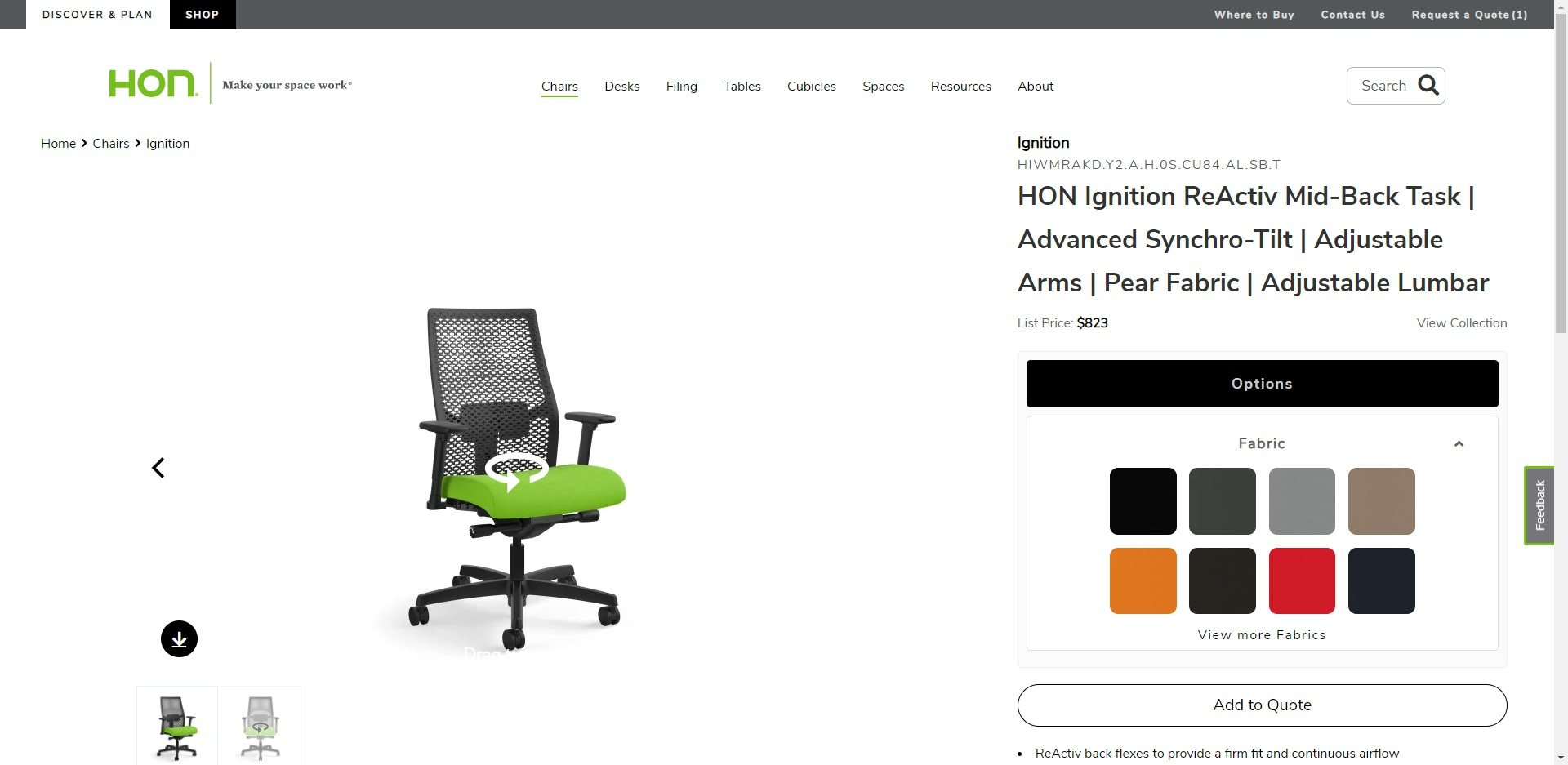 Product pages that lack the 360 viewer provide alternate angles or in-context images instead. On the right, a product configurator helps visitors personalize the selected furniture item by choosing from different options, such as fabric, arm type, control, laminate, etc.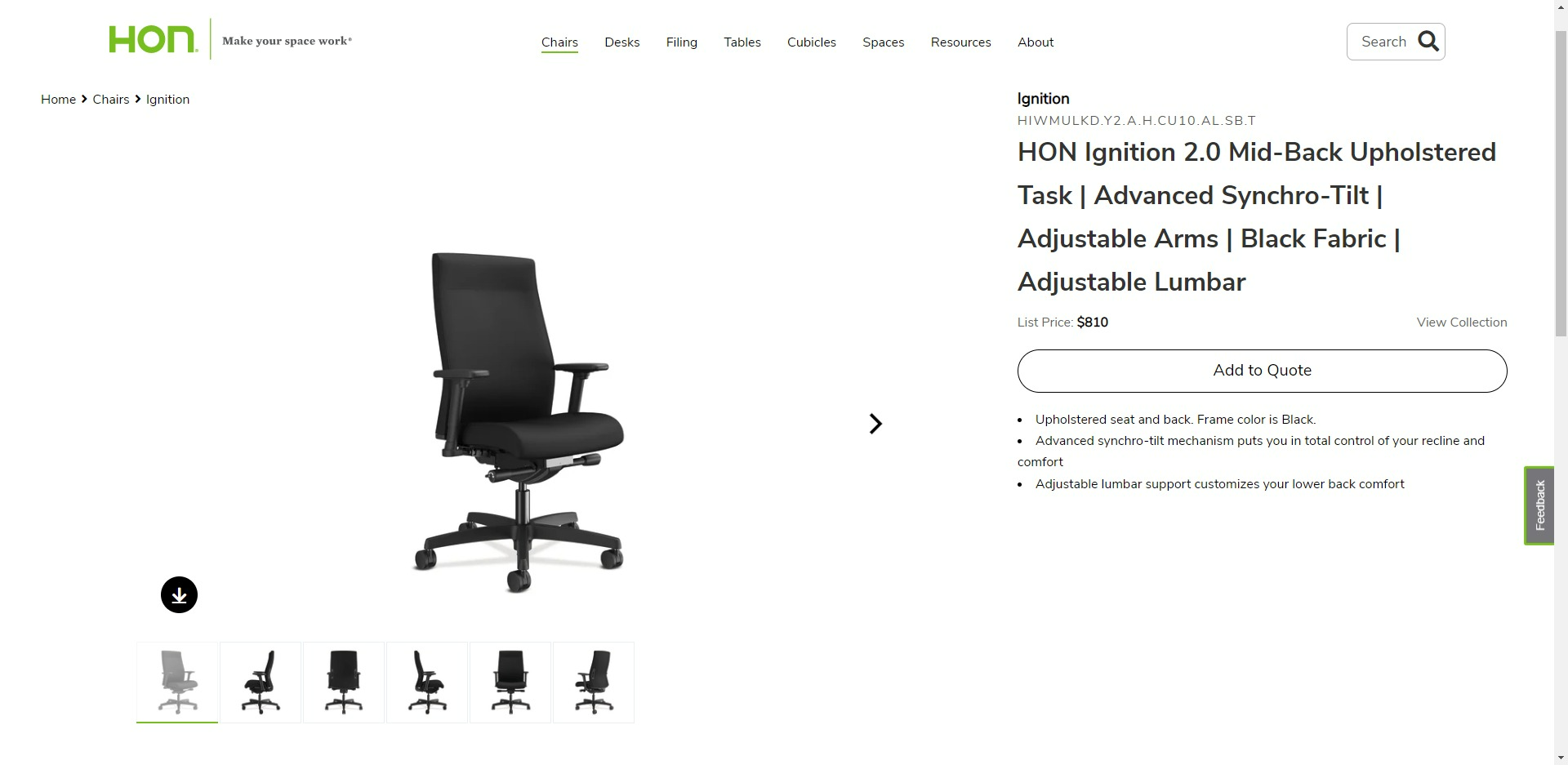 Below the configurator, there's an "add to quote" button allowing customers to request a quote by filling out a contact information form.
As visitors scroll down the page, they find product information organized in separate sections, which vary across different products. These sections usually include a product overview, specifications, functions, resources, components, etc.

At the bottom of the page, consumers are presented with a selection of similar products and related products in accordance with their previous search.

HON's product page experience is clean and straightforward. Nevertheless, the experience could be more interactive by providing 360 views for a larger number of products.
Ready to explore the benefits of 3D product visualization?
The contract furniture industry keeps on thriving at a fast pace despite the many challenges.
3D product visualization can help you keep up with growth and provide a more seamless shopping experience to your customers.
Interested in exploring the potential benefits of 3D product visualization for your furniture company?