Trade shows are the most exciting events in the furniture industry. Furniture businesses devote time, energy, and resources to showcase their products in the best possible light.
While the results achieved at trade shows are the driving forces behind the success of furniture businesses, preparing for a furniture trade show can feel daunting. From logistics and booth design to product launches and promotional campaigns — the effort that goes into a well-organized furniture trade show presence requires months of planning and preparation.
The good news is that companies can use the power of 3D product visualization to speed up and enhance their trade show preparation. In this article, we'll look at the role trade shows play in the furniture industry, the most common use cases of 3D product visualization for furniture trade shows, and the benefits of using 3D visualization for trade shows. Let's dive in.
What is the role of trade shows in the furniture industry?

Every year, some of the biggest furniture events, such as High Point Market, Salone del Mobile Milano, imm Cologne, Maison&Objet, January Furniture Show, and NeoCon, are flooded with thousands of exhibitors and visitors from across the globe.

The question is: Why are trade shows so important for the furniture industry? The short answer is sales.

Trade shows are the second most important sales driver for furniture manufacturers. According to the Maison&Objet barometer, trade shows are the primary sales channel for 68% of B2B furniture businesses. Things are slightly different in furniture retail, where consumer fairs are essential for 27% of retailers.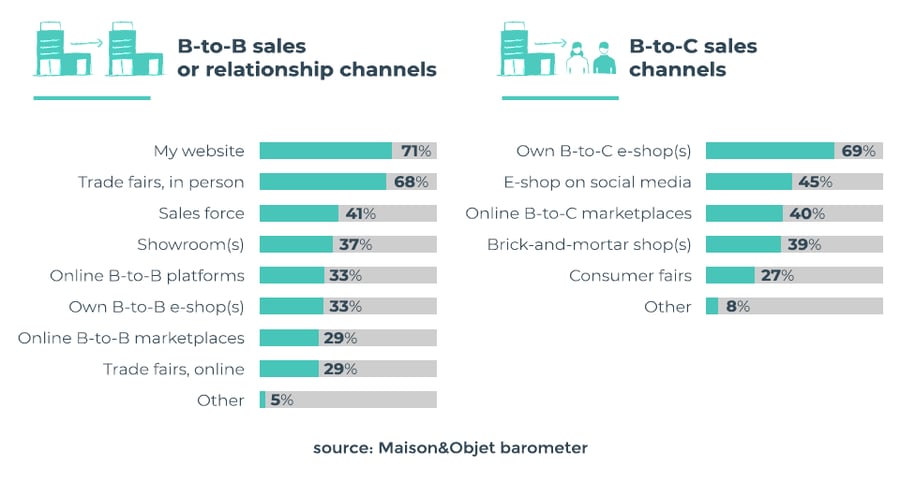 Over the years, trade shows have established their role as a great way to promote your offering, meet potential new suppliers and customers, learn more about your competitors, and keep a pulse on the latest developments in the furniture industry.
How to use 3D product visualization for furniture trade shows
Trade shows are a proven tool in every marketer's toolbox. And while the concept remains the same at its core, today's trade shows are significantly different from the ones from the past. Technology took center stage as trade show marketing evolved and visitors' expectations drastically shifted.
The ability to engage visitors, showcase products in high-quality resolution, and compensate for the limited showroom space has put 3D product visualization at the forefront of the new trade show experience. The best part: you can leverage 3D product visualization at every stage — before, during, and after the trade show.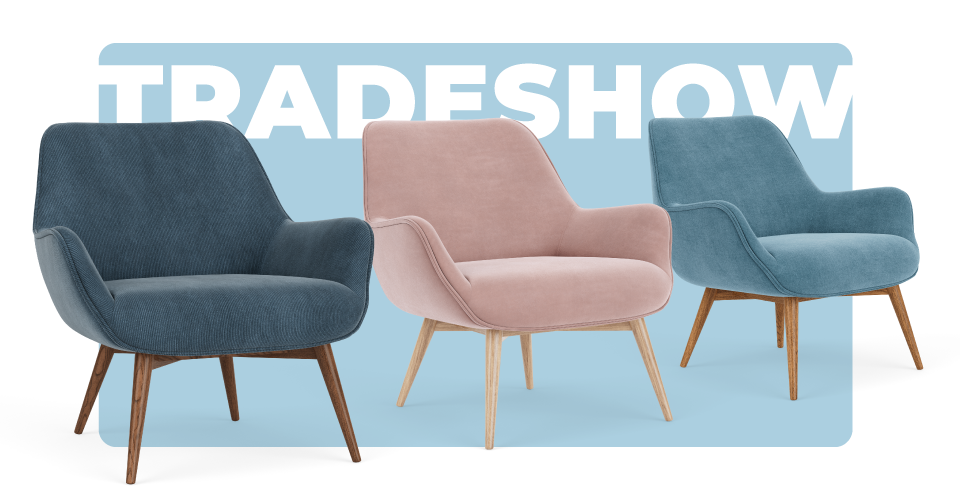 Let's look at some of the most common use cases of 3D product visualization for furniture trade shows.
Before the trade show
Trade show preparations can be nerve-racking. Furniture brands have a huge to-do list of tasks that need to be done before the trade show starts. Booking a booth, planning the booth design, finding a reliable logistics partner, selecting all the products you want to showcase, ordering displays, preparing promotional materials, training your team — and the list goes on.
With all these chores and responsibilities on their plate, furniture brands don't have the time to focus on pretrade show marketing, but it can make all the difference.
Here's where 3D product visualization comes in handy. Having high-quality product visuals, 360-degree views, lifestyle imagery, and augmented reality (AR) allows you to prepare a preshow campaign that will engage visitors and drive traffic to your booth.
Here are some of the tried and tested tactics that can help you boost engagement:
Engage attendees before the show with email marketing campaigns — Preparing a well-targeted email campaign rich with lifestyle imagery of your product offering is a great way to draw attention and book more meetings.

Email marketing

has proven to be a great tool for furniture businesses, with an average open rate of 54%, a 6.25% click rate, and a 1.75% conversion rate.
Use high-quality visuals to announce your trade show presence on social media — Posting daily before a trade show will help you get noticed; however, creating all the visuals necessary for your trade show marketing efforts can be costly and time-consuming, especially if you are going down the traditional route, using product photography. Luckily, with the advances in 3D product visualization, you can now

create photorealistic lifestyle imagery

without all the costs, logistics, and inconvenience required for traditional product photoshoots.
Spruce up your product pages with an engaging experience

— In most cases, your website is the first touchpoint in your buyer's journey. How you present your products will ultimately determine whether buyers would be interested in collaborating with you. Today's business buyers look for the same digital experiences and features they encounter as consumers. On the other hand, you have to be aware that your website is a destination for end customers as well, which means you should create a pleasant digital experience for a dual audience: business buyers and end customers.

Curating your PDP content gallery

and adding 360-degree views, lifestyle images, alternate angle images, and dimension shots will provide dynamic customer experiences.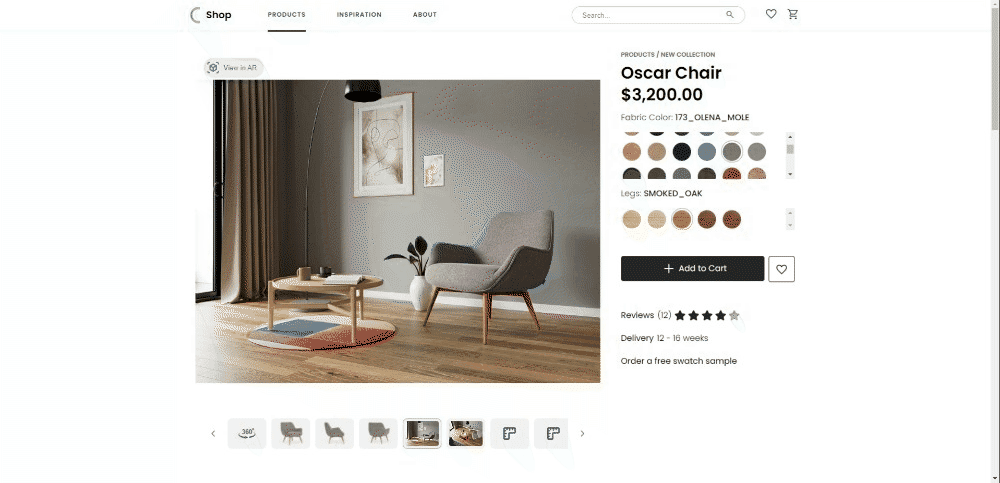 Prepare high-quality print collateral — Business cards, flyers, brochures, booklets, and catalogs are just some of the must-have materials for every trade show. While creating these materials might seem like an easy task, everyone who has worked on a furniture catalog before knows the hurdles all too well. The number of lifestyle images and product visuals needed for a catalog makes this a Sisyphean task. With 3D product visualization, you can showcase your products in different colors, fabrics, and materials and present different angles, detail shots, and in-context visuals to create dreamy lifestyle settings.
During the trade show
After all the hard work that goes into the preparation for a trade show, it's time to make the most of your attendance. No matter how much space you have, there's never enough room to show your bestsellers, all-new collections, and bulky products.
With 3D product visualization, you can overcome space limitations and create an endless aisle experience your visitors will enjoy. Here are some ideas to maximize the ROI of your trade show marketing:
Create an endless-aisle experience — An endless aisle is a visual merchandising concept of using displays, kiosks, and tablets during a furniture market to allow visitors to browse products that are not in the showroom. This way, you can display a full range of products and allow visitors to interact with your product configurator to see products in different variations.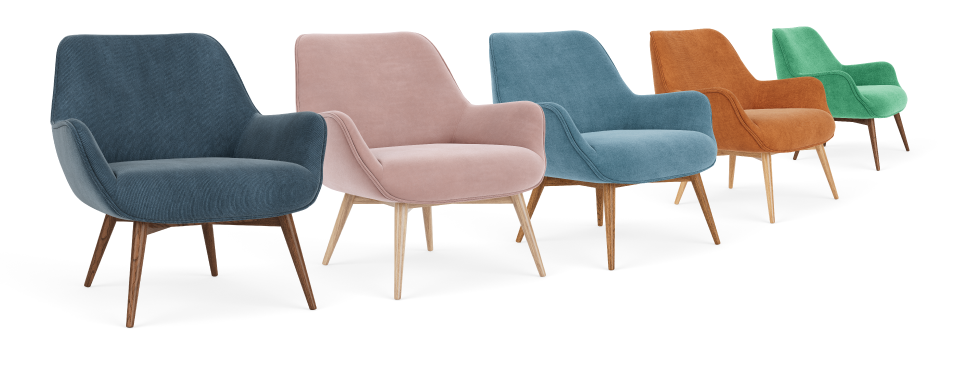 Present upcoming product lines — Sometimes, no matter how much effort you put into getting everything ready for a trade show, the complex process of furniture manufacturing and logistics can hinder you from getting your new product collection ready for the next furniture trade show. You can overcome this obstacle by using 3D product visualization with high-quality, photorealistic product visuals, 360-degree spin, and even AR, which allows you to bring products to life on the spot.
Show bulky products — Bringing big, bulky furniture items to a trade show is a logistics nightmare. If you are one of the furniture manufacturers that have beautiful, bulky products in their product portfolio and you don't want to go through the daunting logistics or have one product occupy your whole booth, 3D product visualization lets you show these products with 360-degree views, AR, and 4K zoom and create a lifelike experience.
Engage visitors with AR — The booths that get the most visitors are the ones that keep visitors engaged. Augmented reality can help you achieve this goal. If you want to enable visitors to configure products and see them in real time, equipping your product pages with AR will allow your team to engage visitors and capture their attention. Another way to use this technology is to print cards with a QR code, so when visitors scan it, they can see your product with the power of AR — a great teaser to get more visitors to check your booth.
After the trade show
Trade show marketing doesn't stop when the event is over. You want to keep buyers engaged long after the trade show is finished. The role of 3D product visualization in post-event promotion is essential.
Once in-person interactions move into the digital world, you need all the support you can get to move the contract across the finish line. Here are some of the marketing activities that can keep the conversation going and engage buyers after the trade show:
Prepare a post-event email campaign — Reminding trade show visitors about collections you've discussed during the show or upcoming product launches can be a great way to spark further discussion. Visuals leave a lasting impression, so make sure to include them in your email campaign. Also, don't forget that personalization is crucial — one size doesn't fit all in B2B sales. You have to personalize your approach for every client.
Follow up with AR experience — If you want to stand out from your competitors, you must offer a unique experience. With AR, your products can be just one QR code away from your buyers. Giving them the ability to see furniture items in a real-life situation can take your conversation to the next level — a new deal.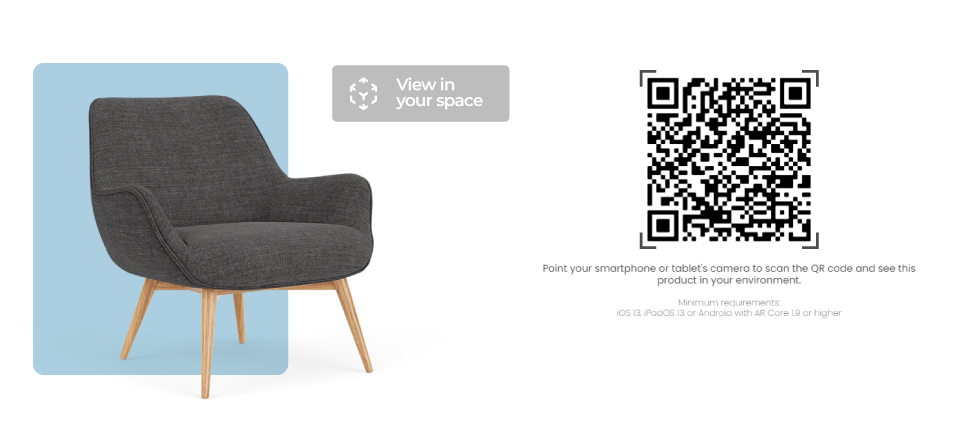 Benefits of 3D product visualization for furniture trade shows
The rapid changes in the furniture industry have revolutionized the way traditional furniture brands operate. Forward-thinking furniture manufacturers use 3D product visualization for trade show marketing to achieve the following benefits:
Create buzz and capture visitors' attention before the show
Enhance the trade show experience with interactive displays to create an endless aisle
Engage visitors with immersive technology such as augmented reality
Save costs and replace expensive and time-consuming traditional product photography
Ready to transform your trade show marketing with 3D product visualization?
The right time to start preparing for the next furniture trade show is today. Incorporating 3D product visualization will completely revolutionize the way you work. From digital merchandising and website experience to marketing and sales, 3D technology can be the lifeblood of your business, setting the foundation for future growth. Ready to level up your trade show marketing? Let's talk about 3D product visualization.