Augmented reality (AR) is transforming furniture retail. As e-commerce traffic has gained traction, augmented reality has quickly become an essential technology for furniture retailers.
Why is AR one of the hottest topics among furniture businesses? And how can you elevate the online shopping experience using AR? We answered these questions and much more in our webinar: Elevating the Buying Experience with Augmented Reality. Here's everything you need to know about AR and its potential to redefine the furniture shopping experience.
The current state of furniture retail

The pandemic has changed the way people shop for furniture. Online shopping is no longer only for digitally native customers — 58% of millennials, 49% of Gen X consumers, and 37% of baby boomers are likely to make their next furniture purchases on the internet, as reported by Furniture Today.
Even in higher touch-and-feel categories — such as recliners, sofas, and loveseats — the shift to e-commerce is profound. According to Furniture Today, 44% of those intending to purchase a recliner say they are likely to purchase online, and 47% of sofa/loveseat purchasers are similarly inclined.
Here's the thing: the changes in shopping habits are not fleeting. Data from McKinsey shows a 30% expected growth in customers purchasing furnishings and appliances online even after the pandemic.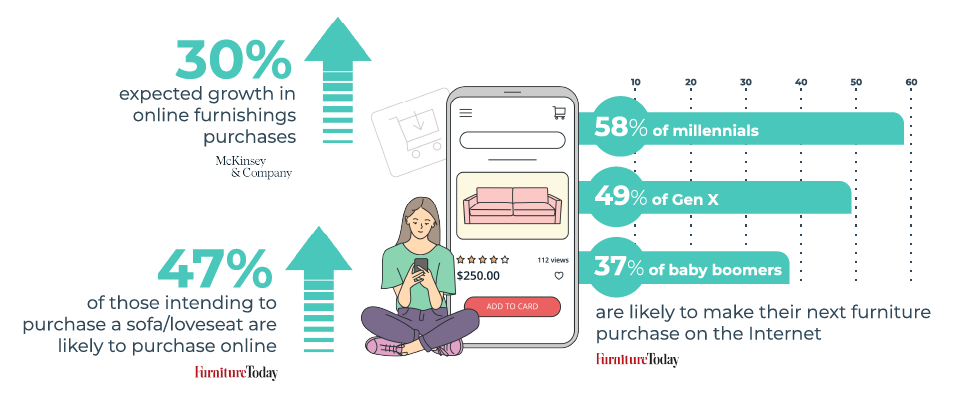 COVID-19 has forced even the most technology-averse customer to be comfortable browsing and even completing a purchase online, and we will see the impact of this not only during the pandemic but in the years to come.
Retailers and direct-to-consumer (DTC) brands need to rethink their digital strategies to meet the needs of 2022. Customers are more comfortable than ever shopping online, even for big-ticket items such as furniture. Companies now have to find different ways to support customers with the right tools that give them enough confidence to complete purchases online.
Start by asking yourself the following questions:
How can we better anticipate and meet customers' needs?
Which technologies can we employ to support customers at every stage of the buyer journey?
What do customers need to make sure they're making the right decision?
Tech-savvy businesses are better prepared for challenging times. Furniture players that developed meaningful and relevant digital experiences for consumers and business buyers were the ones that moved the needle.
Moving forward, creating an engaging online shopping experience will be crucial for furniture retailers that want to thrive in the future.
Augmented reality picks up steam
The introduction of new technologies in the furniture industry is nothing new. However, as more tech-savvy furniture players enter the market, customers' expectations are climbing even higher.
Furniture retailers that are looking to leverage digital technologies to drive customer engagement should keep an eye on one area that holds particular promise — augmented reality (AR).
The reason? Furniture is in the sweet spot for augmented shopping capabilities because it has product sets that are highly standardized with high opportunities for customization. As a result, it has a positive ROI and potential for widespread adoption.
Augmented reality can help you bring products to life and ease the decision-making process for customers.
Some of the biggest advantages of AR include:
Increasing buyer confidence at crucial stages and acting as a differentiating factor
Offering an even better product visualization in real life, thus decreasing return rates — the fact that customers can see products in their space answers many questions they might have about product fit

Lowering cart abandonment rate

, which is enormously high in furniture e-commerce (more than 75% according to

Dynamic Yield

)
Taking an endless aisle approach off of your screen and into your space — augmented reality can help you bring the showroom into every customer's home.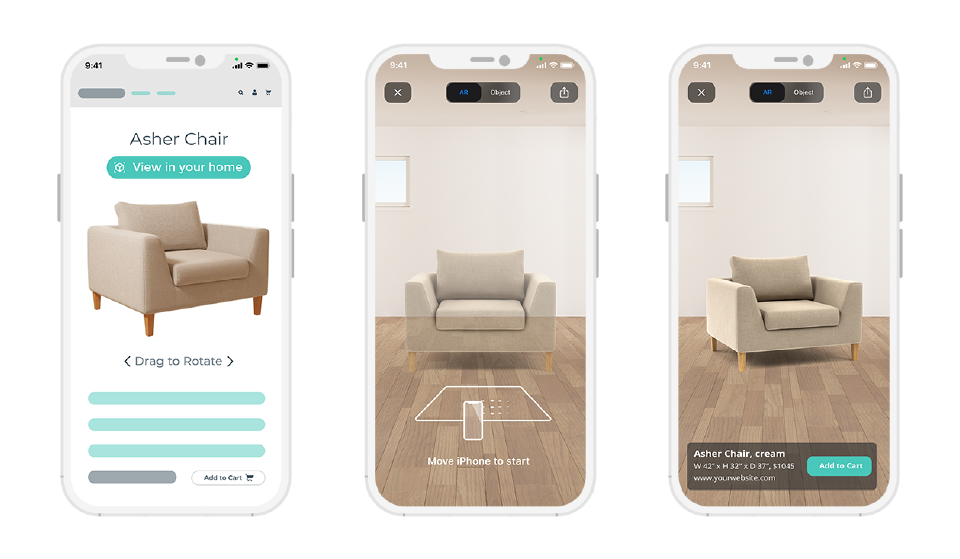 What to look for when choosing an augmented reality solution
Investing in augmented reality can be the first step toward creating a future-proof furniture shopping experience. While there are many AR solutions out there, it is important to pick the right vendor that can grow with your business and meet your needs as you grow.
Here are some guidelines to keep in mind when choosing an augmented reality solution for your furniture business:
1. Web AR will reinvent online furniture shopping
The first thing you need to decide when choosing an AR solution is whether you want a mobile app or a web-native AR solution.
What's the difference? App-based AR solutions require users to download the app before they can experience augmented reality. On the other hand, web-native AR allows customers to place 3D models in their space straight through the browser, without downloading a mobile app.
Other downsides of mobile apps are the lower adoption rate, the access to a limited audience, and high development costs. A good guideline when choosing the right technology for your business is that you should focus on technology with a tangible ROI and a high adoption rate.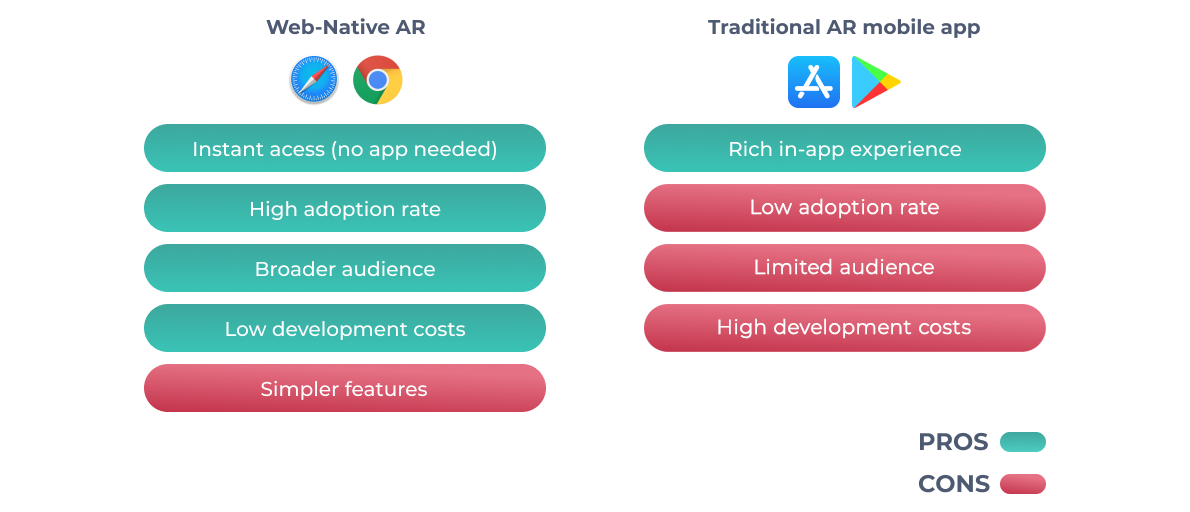 2. Look for out-of-the-box AR use cases
Unlike a few years ago, when augmented reality was perceived as a gimmick, today, the promise that this technology can enhance the buyer journey is becoming more evident.
The reason: proof of concept.
Many furniture businesses have already experienced the benefits of adding augmented reality to their online shopping experiences. The Canadian furniture retailer, EQ3, found that a buyer using web-native AR has a 112% bigger conversion rate compared to someone that doesn't. What's more, AR users have two times higher average order value (AOV).
Augmented reality holds great potential. Tech-savvy retailers are already using out-of-the-box solutions such as QR codes and CTA (call-to-action) banners to create a seamless experience across channels and platforms.
The QR code is designed for shoppers visiting from their desktop/laptop, and it encourages web-native AR adoption, as buyers can seamlessly transition from desktop to mobile with a simple code scan.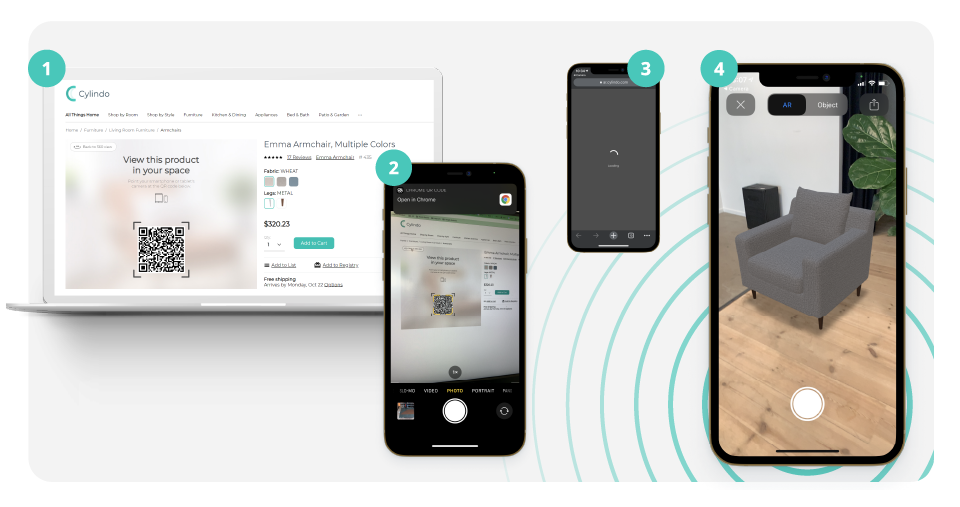 CTA banners give users a clear next step once they've engaged with your web-native AR solution to convert them faster. Once customers see how a piece of furniture would fit in their space, they need a final nudge to go back to the product detail page and finish the purchase.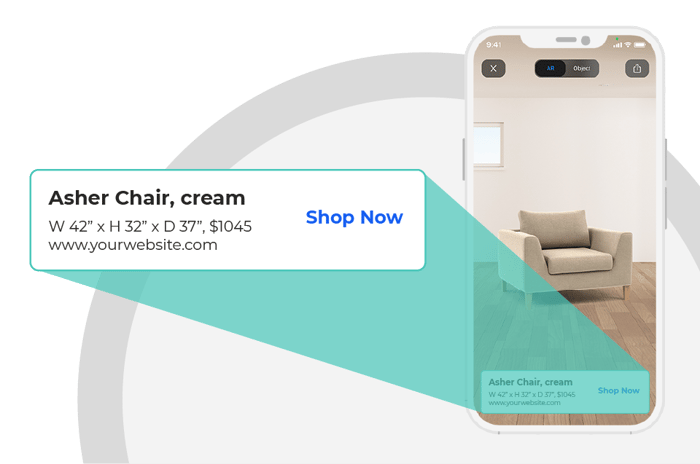 As time goes by, it's clear that augmented reality will become an inevitable part of the furniture shopping experience. There are many use cases that should yet be discovered. That said, when choosing an AR solution, make sure to find a vendor that is ready to scale and expand its offering with more use cases as the technology develops further.
3. Focus on a solution that lets you track performance
To understand the impact a solution has on your business, you have to be able to track performance. Augmented reality is no longer nice-to-have technology — it brings tangible results and ROI.
Being able to track and analyze how your customers engage with AR and compare conversions and AOV of products with versus without AR can give you significant insights that can help you make strategic business decisions.
Without the right tools, customer information is a black box. Keep this in mind when choosing an augmented reality solution for your business.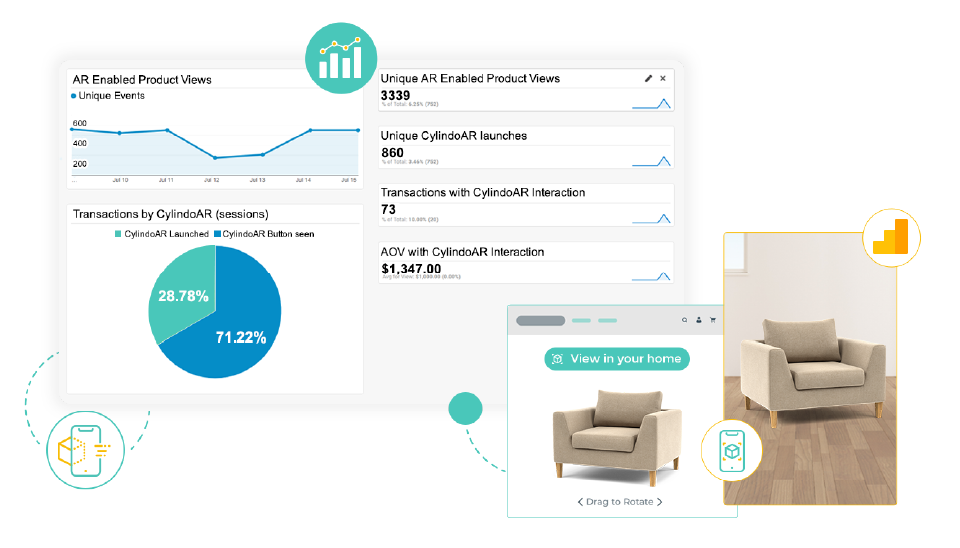 What's next?

Some of the biggest furniture players have already introduced AR solutions, allowing customers to insert virtual objects, such as sofas, tables, and chairs, into their homes and immediately see how the piece of furniture would look. This way, customers can virtually try out furniture, not worrying about bad decisions and removing a huge weight from their shoulders before the big purchase.
Augmented reality has big potential to disrupt the way people shop and ease the decision-making process. If you want to better understand how AR can help you elevate the customer experience, watch our on-demand webinar.